St. Louis sees second night of protests over ex-cop's acquittal
Nicole Chavez and Steve Almasy, CNN | 9/17/2017, 7:44 a.m.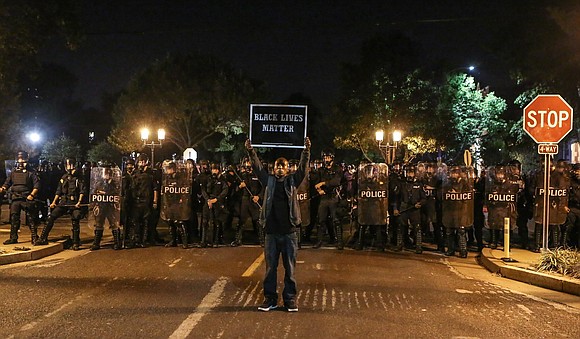 (CNN) -- Protesters blocked roads in St. Louis on Saturday night on a second day of demonstrations after the acquittal of a former police officer who was charged with first-degree murder.
Saturday's demonstrations started as Friday's did, with a few hundred people marching peacefully in streets near downtown and heated up as they continued into the night.
A pocket of protesters threw bricks, rocks and projectiles with paint at police as officers tried to disperse the crowds.
Nine people were arrested Saturday night during the protests, two police departments in the area said.
Video footage showed at least eight people in police custody after protesters shattered the windows of numerous businesses Saturday night.
One man told CNN's Ryan Young he was there to voice his frustration, though he didn't pinpoint why he was discouraged.
Some people vented about the court's decision to acquit Jason Stockley, who as an officer in 2011 shot and killed a motorist. Demonstrators also called for some city leaders to step down.
A female protester said she was sad all day and had tried to distract herself.
"Eventually I just had to come out and do something," she said. "It feels like a parade for peace."
Demonstrators briefly invaded two area malls earlier in the day. The city had been on edge for days during the trial. Protests Friday night were mostly peaceful, but after dark there was violence.
A group of protesters Saturday marched through the West County Center Mall in Des Peres, Missouri, chanting "No justice, no profits." Security officers estimated there were between 200 and 300 protesters marching peacefully.
Many chanted, "Black lives matter," video on social media shows. Stockley is white; the man he killed was black.
CNN affiliate KMOV said the mall protest lasted about an hour. Protesters also marched through Chesterfield Mall near St. Louis.
Legendary rock band U2 announced on its website that it canceled a show scheduled for Saturday night in St. Louis because police could not provide enough officers as a security detail for the concert. An Ed Sheeran concert at the Scottrade Center -- primarily used for the city's National Hockey League team -- was also canceled for the same reason, a statement on the venue's website said.
Rocks at the mayor's house
Demonstrations on Friday night were at times violent.
Some protesters locked arms and prayed together, but within hours others smashed the windshield of a police vehicle and threw water bottles, rocks and bricks at law enforcement.
St. Louis police said the demonstrators later threw rocks at the mayor's home.
At least 33 people were arrested, most of whom were from St. Louis or the surrounding area, according to a police tweet.
A total of 11 law enforcement officers were injured in protests. Nine St. Louis Metropolitan Police Department officers, one officer with the county and one Missouri State Highway Patrol trooper were injured during protests on Friday night, St. Louis Metro Police Department Chief Lawrence O'Toole said.