Tensions in St. Louis: How did we get here?
Darran Simon, CNN | 9/19/2017, 8:12 a.m.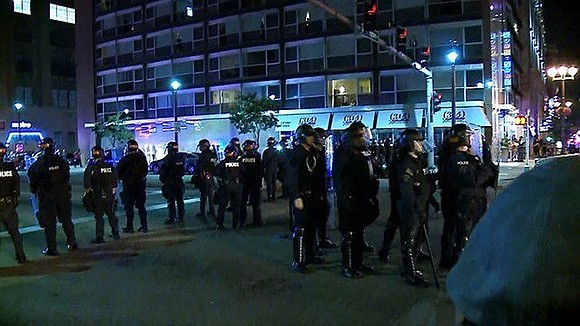 Protests erupted again in Ferguson and across the nation after a grand jury declined to indict Wilson on November 24, 2014.
Wilson ultimately resigned from the force. Thomas Jackson, the police chief of Ferguson at the time of Brown's death, also resigned in March 2015 following a scathing Justice Department report that found systemic racial discrimination by Ferguson police and court system against African Americans.
A DOJ investigation ultimately determined Wilson did not violate Brown's civil rights.
Brown's death and the protests surrounding it also renewed interest in the Jason Stockley case. "Without the Mike Brown case ... the prosecution of Jason Stockley never would have happened," CNN's Thomas Lake wrote.
Stockley charged years later
In May 2016, then-St. Louis Circuit Attorney Jennifer Joyce charged Stockley with first-degree murder, citing new evidence. Stockley pleaded not guilty and waived his right to a jury trial. His fate was now in a judge's hands.
Trial, acquittal, protests
Dramatic footage captured in the shooting's aftermath -- from the police dash camera, an internal vehicle camera and a cell phone video -- played a central role in Stockley's trial. Prosecutors also argued the ex-officer intended to kill Smith, citing audio caught on an internal police vehicle camera during the chase in which Stockley told his partner, "We're killing this motherer."
Prosecutors also argued Stockley planted the revolver in Smith's car to justify the shooting. But the gun was never seen on any of the footage from multiple cameras that captured Stockley and other officers at the scene.
Photos: The weekend in St. Louis
Prosecutors said that footage appeared to show Stockley rummaging through a bag in the back of a police vehicle, arguing that was the moment when Stockley retrieved the weapon. Prosecutors also said Stockley's DNA was found on the weapon.
Before the verdict was announced, Smith's fiancée urged the community to avoid violence.
"However it goes, I ask for peace," Christina Wilson said at a news conference with the city's mayor Eric Greitens.
In his ruling on Friday, St. Louis Circuit Judge Timothy Wilson said the prosecution failed to prove that Stockley did not act in self-defense.
"This court... is simply not firmly convinced of the defendant's guilt," Wilson wrote in his 30-page decision.
After the verdict, St. Louis Circuit Attorney Kimberly Gardner said she was "disappointed" by the decision.
"It feels like a burden has been lifted, but the burden of having to kill someone never really lifts," Stockley later told the St. Louis Post-Dispatch.
Protests began immediately in St. Louis. Protesters and activists blocked highways and marched to the St. Louis police headquarters, calling for police resignations and an economic boycott of the city, the St.Louis Post-Dispatch reported.