Hurricane Maria pounds Puerto Rico after killing 7 people in Dominica
Euan McKirdy, Holly Yan and Jaide Timm-Garcia, CNN | 9/20/2017, 10:17 a.m.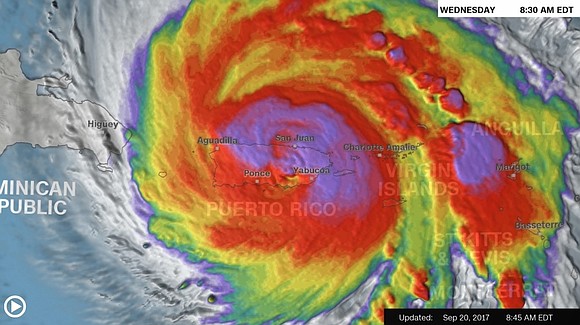 Hurricane Maria pummeled Puerto Rico on Wednesday morning, ripping trees out of the ground and hammering two-thirds of the island with hurricane-force winds.
"This is total devastation," said Carlos Mercader, a spokesman for Puerto Rico's governor. "Puerto Rico, in terms of the infrastructure, will not be the same. ... This is something of historic proportions."
Maria has killed seven people on the Caribbean island nation of Dominica, said Gaston Browne, the Prime Minister of Antigua and Barbuda. Browne said he had been communicating with the Prime Minister of Dominica, Roosevelt Skerrit, whose own house was shredded by the storm.
Maria made landfall in Puerto Rico on Wednesday near the city of Yabucoa with winds of 155 mph, the National Hurricane Center said. By 10 a.m., those winds had weakened to 145 mph, but Maria was still a Category 4 hurricane capable of ripping roofs off houses.
The storm was so fierce, it broke two National Weather Service radars on the island.
Calls for rescue immediately started pouring in -- but to no avail.
"First responders cannot go out there," Mercader said, echoing the governor's earlier warning that emergency crews wouldn't go outside in winds stronger than 50 mph.
Maria was expected to cause widespread power outages across Puerto Rico. Shortly after landfall, the storm had wiped out power in the east coast city of Fajardo.
Thousands of Puerto Ricans heeded calls to go to emergency shelters. "As of 2:30 a.m. we count 10,059 refugees and 189 pets (in shelters)," the island's governor, Ricardo Rosselló, tweeted.
Maria became the first hurricane of Category 4 strength or higher in nearly 80 years to hit the US territory, home to 3.3 million people.
TRACK THE STORM
As residents hunkered down in homes and shelters ahead of the direct impact, others in the most vulnerable, low-lying, flood-prone areas were evacuated.
The Puerto Rico Convention Center in San Juan -- which was still housing Hurricane Irma evacuees from other Caribbean islands -- prepared to accept thousands more residents.
Potentially 'strongest ever' storm
The storm was likely to be a record-breaking event, CNN meteorologist Derek Van Dam said.
"This could potentially be the strongest hurricane to ever reach the shores of Puerto Rico," he said from San Juan, Puerto Rico's capital.
"A lot of people remember or have heard of the storms that hit in 1928 and 1930. Well, guess what? This could pale those in comparison. ... It will go down in the record books."
Storm surges of 6 to 9 feet were expected.
"Hurricane Maria is really scraping the upper echelon of what's possible with hurricanes, (with) 175 mph sustained winds right around the center of the storm," Van Dam said Tuesday.
The island's mountainous terrain was likely to act like a barrier and squeeze a lot of moisture out of Maria, he said, producing as much as 2 feet of rain in some places. That could lead to flash flooding, which Rosselló stressed often is the top cause of death following a storm like this.