ESPN's Jemele Hill becomes subject of political controversy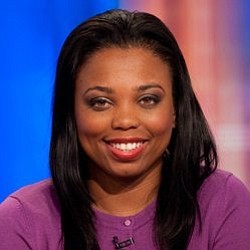 In the age of President Donald Trump, the sports channel ESPN has become another ground for the ongoing culture war.
Going back to the discussion around Colin Kaepernick protesting the "Star-Spangled Banner," political conservatives have chanted the "stick to sports" mantra that's made its way to the so-called worldwide leader in sports. With more nonwhite voices at the network, conservatives have accused ESPN of possessing a liberal bias, directing much of their ire toward on-air personalities of color such as Cuban-American Dan Le Batard and Black Americans Bomani Jones and Jemele Hill.
Hill ran into the conservative buzzsaw last week when she accused Trump of being a white supremacist and said he wasn't fit for the job.
"Donald Trump is a white supremacist who has largely surrounded himself w/ other white supremacists," Hill said on Twitter. "The height of white privilege is being able to ignore his white supremacy, because it's of no threat to you. Well, it's a threat to me. Trump is the most ignorant, offensive president of my lifetime. His rise is a direct result of white supremacy. Period."
Hill, who hosts the 6 p.m. "SportsCenter" show with Michael Smith, met the ire of conservative-leaning sports personalities such as Clay Travis of "Fox Sports 1," vocal ESPN and "Fox Sports 1" personality Jason Whitlock and Breitbart News Online Radio Host and former ESPN baseball analyst, Curt Schilling.
But Hill also had the official arm of the White House bashing her for her opinion.
"I think that's one of the more outrageous comments that anyone could make," said White House Press Secretary Sarah Huckabee Sanders during a press briefing. "And certainly something that I think is a fireable offense by ESPN."
Schilling, who was fired by ESPN for continually expressing his political opinions online after being told to stop multiple times, called Hill a racist during an interview on CNN.
ESPN reprimanded Hill and wanted the public to know that her beliefs aren't the company's.
"The comments on Twitter from Jemele Hill regarding the president do not represent the position of ESPN," read ESPN's official statement. "We have addressed this with Jemele and she recognizes her actions were inappropriate."
The National Association of Black Journalists stepped in to defend Hill in a public statement citing her First Amendment rights.
"Jemele Hill is an award-winning, veteran journalist who has distinguished herself for having insightful opinions and
perspectives on a variety of topics," read NABJ's statement. "Having been successful along those lines for 20 years, she has been able to connect with viewers on ESPN as well as on various social media platforms."
The statement concluded, "That withstanding, the National Association of Black Journalists supports Hill's First Amendment rights on all matters of discussion, within and outside the world of sports, as they do not impinge on her duties as a host and commentator."
National Action Network President Al Sharpton said that Hill should be able to express her views as a citizen without the risk of the federal government pushing for her to be fired.