Monroe soccer off to solid start
LOIS ELFMAN | 9/21/2017, 12:18 p.m.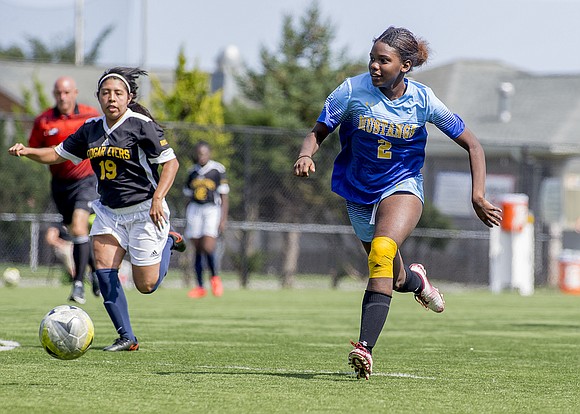 Soccer is a high-profile sport at Monroe College in New Rochelle, and the women's soccer team is showcasing some stellar New York
area talent this season. The Mustangs have started the season 2-1 and are working toward more success as the season progresses.
For Harlem native Cydney Barry, the coaches at Monroe believed in her despite an injury that kept her on the sideline during part of her senior year of high school. Barry comes from a family of tennis players, but as a child she was intent on playing a different sport. Her father chose soccer, and she started playing in the West Side Soccer League at age 4. As a teenager, she played on the team at DeWitt Clinton High School.
"I figured this was the best fit for me as a steppingstone for the next chapter of my life. … It's a great opportunity," said Barry. Although Monroe is a four-year college, the sports are two years and largely compete against two-year institutions. Barry, a sophomore, hopes to transfer and continue playing. Her brother played tennis at Florida A&M, and she hopes to also attend an HBCU school.
"College sports has been a big dream of mine," said Barry, who hopes to attend either Hampton University or Howard University. "The goal remains clear for me, and I make sure every day I'm giving 100 percent to be able to complete that goal."
Barry said her teammates are like-minded, giving 100 percent effort in practice and in games. Fellow New Yorker, freshman D'Shanelle White from the Bronx, embraced soccer after moving to New York from Jamaica, West Indies.
"People say I have good speed," said White, whose long-term goal is to attend law school. "Naturally, I knew how to play soccer, but it's nothing I took seriously."
Encouraged to try out for the team in high school, she quickly displayed talent and earned MVP. That led her to Monroe. She is enjoying the college's criminal justice program and is thriving on playing soccer in college.
"I'm very excited for everything," said White. "I can't wait to see how this team does."
The Mustangs are on the road this week, playing two matches in Texas. It's a big deal to go so far from home, and the team is excited to take on the challenge.