NYC Basketball Hall of Fame set to welcome newest class
Jaime C. Harris | 9/21/2017, 12:14 p.m.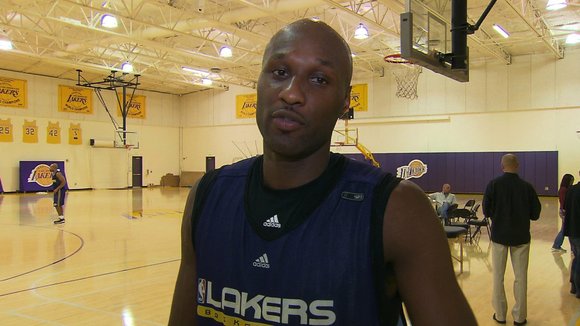 The New York City Basketball Hall of Fame will honor its 2017 class Tuesday, Oct. 3, at the Bryant Park Grill in Manhattan headlined by former Christ the King Regional High School star and two-time NBA champion Lamar Odom. The Queens native won titles with the Los Angeles Lakers in 2009 and 2010.
Jackie Jackson, fondly known as Jumpin' Jackie Jackson, who was a teammate of Lenny Wilkins and Connie Hawkins at Boys High, as well as one of the most celebrated playground players in the city's history, will receive well deserved enshrinement alongside his classmates.
For 20 years Jackson entertained countless fans as a member of the Harlem Globetrotters with legendary figures such as Fred "Curly" Neal and Meadowlark Lemon. He is a member of the Globetrotters, Virginia Union and CIAA Hall of Fame.
Bob Williams, a co-founder of the NYC Hall of Fame, will be bestowed entry and the Trustee Award. Williams, a staple of the New York basketball community for more than 50 years, is widely lauded for his lifelong commitment to serving the city's youth.
Kevin Stacom will be among the honorees and won a championship with the Boston Celtics in 1976. Before playing six seasons in the NBA, Stacom honed his skills at Holy Cross High School in Queens and Providence College.
Ron Behagen is also entering the Hall. A Dewitt Clinton High School alumnus who played college basketball for the University of Minnesota, Behagen was a first round pick of the NBA's Kansas City Omaha Kings in 1973 and made the league's All-Rookie Team.
Bronx High School of Science product Steve Lappas will take his place among the NYC Hall of Fame greats having produced a stellar coaching career, including leading Truman High School's program, where he helped develop fellow NYC Basketball Hall of Famer Rod Strickland. Lappas served as head coach at Manhattan College, Villanova and the University of Massachusetts.
Anne Gregory O'Connell, who scored 2,548 career points and grabbed 1,999 career rebounds from 1976 to1980 playing for Fordham University, where she still holds five single season records, including averaging 23.7 rebounds per game as a freshman, will be among the prestigious group.
So will Larry Lembo, who ended his career at Manhattan College as the school's all-time leading scorer (1,443), a mark that stood for 13 years. A 1965 fourth round draft choice of the Knicks, Lembo may best be remembered for his long and highly regarded tenure as a collegiate official.
The evening will begin with a press conference at 5 p.m., followed by a reception at 6 p.m. before the dinner. For information on the event, contact Patricia Downey at 609-324-2679 or at PatriciaDowney706@comcast.net.