Recipe: Brussels sprout cauliflower gratin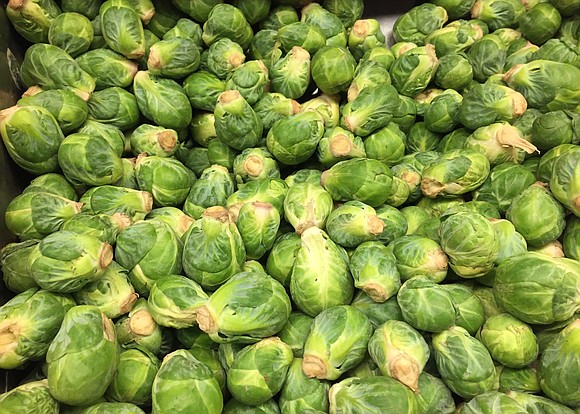 This recipe from Bon Appetit makes the perfect side dish for the holiday table or for a weeknight roast chicken dinner.
1 and 1/2 pounds Brussels sprouts, trimmed, quartered lengthwise through core
1 and 1/2 to 1 and 3/4 pound head of cauliflower, trimmed, cut into small florets
2 and 3/4 cups heavy whipping cream
1/2 cup chopped shallots
1 tablespoon chopped fresh sage
1 and 1/2 tablespoons olive oil
1/2 cup plain dry breadcrumbs
1/2 cup pine nuts, lightly toasted
2 tablespoons chopped fresh Italian parsley
3 cups grated Parmesan cheese, divided
Fill large bowl with ice and cold water. Cook Brussels sprouts in large pot of generously salted boiling water for two minutes. Add cauliflower to same pot; cook until vegetables are crisp-tender, approximately three minutes longer. Drain. Transfer vegetables to bowl of ice water to cool. Drain well.
Combine cream, shallots and sage in large saucepan. Bring to boil. Reduce heat; simmer until mixture is reduced to 2 and 1/2 cups, approximately 10 minutes. Season with salt. Remove from heat. Cool slightly.
Heat oil in large nonstick skillet over medium heat. Add breadcrumbs; stir until beginning to brown, about two minutes. Transfer to bowl; cool. Stir in pine nuts and parsley. Season with salt and pepper.
Butter 13x9x2-inch glass baking dish; arrange half of vegetables in dish. Sprinkle with salt and pepper, then add 1 and 1/2 cups Parmesan. Arrange remaining vegetables evenly over, then sprinkle with remaining 1 and 1/2 cups Parmesan. Pour cream mixture evenly over.
Preheat oven to 375° F. Cover gratin with foil. Bake covered 40 minutes. Uncover; sprinkle breadcrumb topping over and bake uncovered 15 minutes longer.