Trump 'bombastic' at UN
Herb Boyd | 9/21/2017, 11:14 a.m.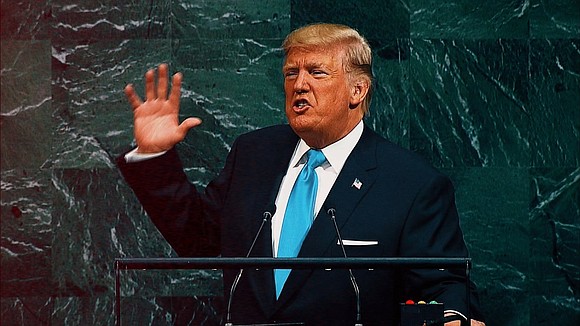 President Trump should swallow some of the words he delivered in his first address to the United Nations General Assembly Tuesday. He would do well to heed his message about "authoritarian powers" that "seek to collapse the values, the system and alliance." And he would do well to check his own actions to the contrary when he asked that the world's children be "free from violence, hatred and fear."
Of course, the authoritarianism and violence were earmarked for North Korea and its leader, Kim Jong-un, who he called "Rocket Man," denoting the ongoing missile tests, some of them over Japan.
Kim, Trump added, "is on a suicide mission for [him] and his regime…and we will have no choice but to totally destroy North Korea."
Beyond the jangling discord, this extreme form of saber rattling is a nuclear war that would be catastrophic for the entire planet. Trump also admonished nations that continue to trade with North Korea. "It is an outrage that some nations would not only trade with such a regime—but arm, supply and financially support a regime that imperils the world with nuclear conflict," Trump said.
For more than 40 minutes, Trump assailed North Korea, denounced the nuclear deal with Iran, excoriated Venezuelan President Maduro, rebuked the costly payments to the U.N. and emphasized his "America first" outlook.
"In America, the people govern, the people rule and the people are sovereign," he stated, citing that he was elected to serve the people of his country. "I will always put America first—just like you—as leaders of your countries will always—and should—always put your countries first."
One of the first responses to Trump's speech came from Javad Zarif, Iran's prime minister. "Trump's ignorant hate speech belongs in medieval times—not the 21st century U.N.—unworthy of a reply," he tweeted. "Fake empathy for Iranians fools no one."
Sen. Dianne Feinstein (D-Calif.) said Trump's speech was "bombastic" and that rather than calling for peace he used the platform "as a stage to threaten war."
NATO Secretary-General Jens Stoltenberg found Trump's comments about North Korea another example of "strong rhetoric and strong language," which many pundits expected.
Many believe that the end result of the provocations between the "Rocket Man" and Trump could be a nuclear winter that would make the current crop of hurricanes seem like summer breezes.