Dr. Rae Wynn-Grant, a wildlife specialist with an interest in bears
HERB BOYD | 9/28/2017, 3:55 p.m.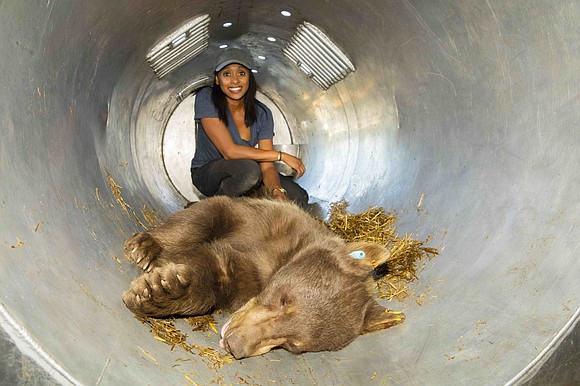 Dr. Rae Wynn-Grant earned her doctorate in Ecology and Evolution from Columbia University. She is the only African-American woman scientist at the American Museum of Natural History in New York. And she is the deputy chair of the Equity, Inclusion and Diversity committee for the Society for Conservation Biology.
Any one of these accomplishments would be distinction enough, but Wynn-Grant has several others, and none more fascinating than the dangerous pursuit of jaguars and bears to tag them as part of her environmental studies.
The photo here of her posing with a tranquilized bear is evidence of her interest in learning more about how human activity affects the ecology of large carnivores. When asked what happens if the slumbering bear awakens? "That's usually a gradual process," she said, "they come out of it very slowly, so I'm sufficiently aware of its arousal."
She admits there was some fear and trepidation in the beginning, explaining, "but I learned that a lot of care and training is involved, and I received this from some of the top notch teachers who are now my friends. Yes, at first it was terrifying, but at the same time exciting."
Wynn-Grant's path to bearology, so to speak, began in earnest after a safari trip to Kenya, where she reconnected with the wildlife that so fascinated her as a child watching nature shows on PBS. She elaborated, "I realized that this was what I had been missing because you don't get a chance to study wildlife in the classroom, or in college or in normal environmental courses. You have to go into the hills and forests to be taught by experts. As a child, I had no idea that wildlife was a field of study."
She continued, "But traveling to Africa and being taught by Kenyan professors meant a world of difference to me. And it's something I've been doing ever since." She also picked up a bit of Swahili that is spoken in Kenya and other parts of East Africa.
Coming of age in San Francisco is a long way from East Africa for Wynn-Grant, Africa being where she expanded her research in ecology and the environment, but pedigree is something that defies borders, and hers is impressive. "My mother is Toni Wynn, and for a long time she was a poet and published several books of poetry," she began, "and now she's a consultant for museums with an expertise in African-American history." Some of her mother's research appears in the Smithsonian's National Museum of African-American History, she added.
"My father is Brad Grant, and he's one of the few Black architects in the country," Wynn-Grant said, "and he's a tenured professor in the architecture department at Howard University." Her younger brother, Asa Wynn-Grant, is equally distinguished in the field of law and works as an attorney in San Francisco.
It's a family, she said, that set her up to excel, and she certainly has made her mark, perhaps beyond their wildest expectations. "I don't think they had any idea that I would end up in the study of wildlife, and there was certainly no evidence of it in my early years," she said with a laugh.
Wynn-Grant, 31, has given her family name added prestige through her marriage to Obadele (Oba) Davis, a noted attorney and native of Harlem whose father is Abiodun Oyewole, the legendary and founding member of The Last Poets. Given this illustrious lineage there's a good chance it will be extended further when their 2-year-old daughter, Zuri, decides on her career path.
Google Wynn-Grant and there's story after story about her and her remarkable venture into the wilds and into intellectual terrain where very few African-American women can be found. It was surprising to discover that Wynn-Grant and two of her associates—Alexandra Sutton Lawrence and Cynthia Malone, both Black women—are members of the Equity, Inclusion and Diversity committee for the Society for Conservation Biology. Is there a book here?
"You are not the first one to suggest such a book on Black women in science," she said, when the subject was posed. "It is certainly something to consider."
That is, when she isn't cozying up to a giant black bear.