Harlem hosts Dads Take Your Child to School Day
9/28/2017, 11:33 a.m.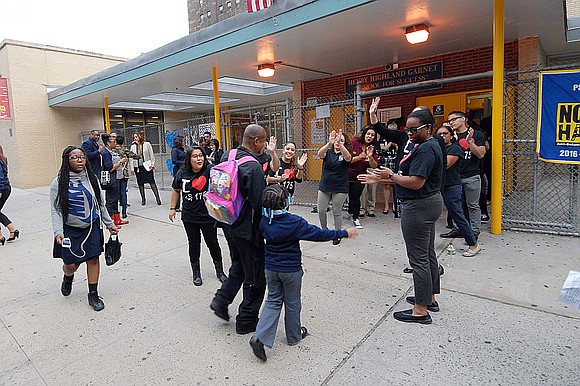 New York State celebrated Dads Take Your Child to School Day for the 11th year Tuesday, Sept. 19, 2017.  More than 450 schools, Head Start, child care programs and community-based organizations registered at www.dadstakeyourchildtoschoolday.com to host activities for fathers and male caregivers on their respective sites.  Over the years, New York State has had as many as 11,000 fathers participate in this event.
The goal of Dads Take Your Child to School Day is to increase father engagement in the educational environment. Research supports the fact that students are most successful when their father is involved. The committee responsible for the promotion of Dads Take Your Child to School Day continues to encourage the following themes:
• Job Development and Educational Advancement
• Improving Literacy and Homework Help
• Health and Wellness for Men and Families
• School Safety and Volunteer Opportunities
• Supporting New Americans
This year's activities included a rally at the Harlem YMCA on West 135th Street.  The program concluded with families walking to neighboring schools. This year's featured school was P.S. 175, the Henry H. Garnet School on West 134th Street. Other schools in the area are PS 92, Eagle Academy, Kappa IV, PS 197 and The Thurgood Marshall Academy.