Our territories need more than just our prayers
Christina Greer Ph.D. | 9/28/2017, 4:14 p.m.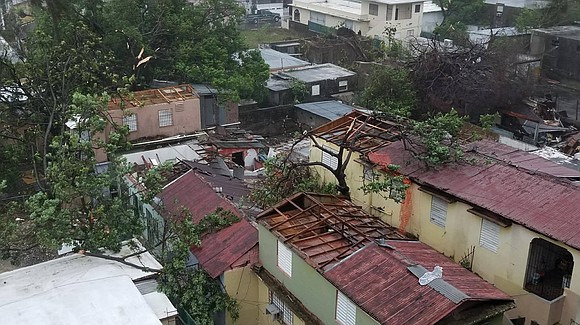 The recent hurricanes Harvey, Irma and Maria have left devastation in their wake. The loss of lives, property and natural surroundings has forever changed the lives of millions of Americans and people in the Caribbean. Although much of the media breathed a sigh of relief that Hurricane Irma only touched down on American soil as a Category 4 storm, she actually touched down on the U.S. Virgin Islands as a Category 5 hurricane. The U.S. Virgin Islands are the United States and should be treated as a priority when allocating aid and National Guard support for rebuilding, and should remain in our collective consciousness as we think of donations and priorities for rebuilding.
St. Thomas, U.S.V.I. native Tiphanie Yanique, author of "In the Land of Love and Drowning," has been a vocal critic of the mainstream media's lack of attention to the U.S.V.I. She has argued that relatives living on the continental U.S should not have to rely on foreign media for information about their loved ones in the islands. The United States, ostensibly, does not have colonies; therefore, it is imperative we pressure our elected officials to make sure ample and adequate support is given to the residents of the U.S.V.I. and Puerto Rico. Unfortunately, too many stories about the devastation on these islands have focused on the lives of tourists and the future of the cruise ship industry. Far too many reports have provided detailed accounts of retirees who have had to move back to the mainland because their homes have been damaged or destroyed. But what about the people who have called the U.S.V.I. or Puerto Rico home for decades and generations? Let me be clear. What about the people, many of whom are people of color, who have lived as American citizens even without full protections and provisions of the law, all while paying taxes? What will become of these families?
Many living in the U.S.V.I. are still without electricity, and the most recent hurricane, Maria, has changed the landscape of Puerto Rico, possibly forever. Reports indicate that the island, and many others, might be without electricity for four to six months. That is absolutely disgraceful and unacceptable. The populations of Puerto Rico and U.S.V.I. total approximately 3.5 million Americans who need more than just prayers. As the president is preoccupied with Twitter fights with the NFL and North Korea, he has yet to mention a detailed plan to rebuild and support his own citizens. Therefore, it is up to us to support our fellow citizens. There are so many churches and local small organizations and families who are collecting goods large and small to donate when the islands become more habitable and they are able to travel to their respective homelands. Until then, please continue to ask your friends and neighbors what needs to be done so we can collectively help our neighbors and fellow citizens in the Atlantic.
Christina Greer, Ph.D., is an associate professor at Fordham University, the author of "Black Ethnics: Race, Immigration, and the Pursuit of the American Dream" and the host of The Aftermath on Ozy.com. You can find her on Twitter @Dr_CMGreer.