Storms' Aftermath: NYers front and center in hurricane relief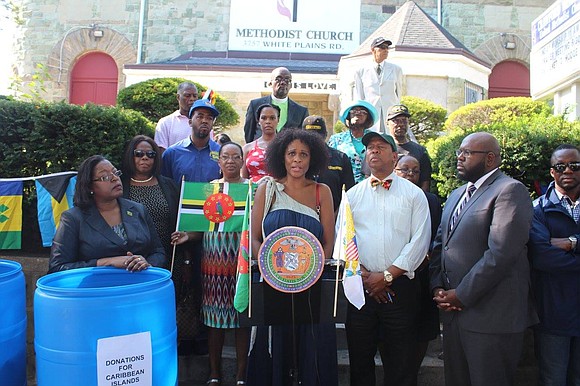 With some flooded and battered areas still unreachable, and fear of disease spreading in many of the hurricane-hammered Caribbean countries, residents of many islands are struggling to find some degree of normalcy, as the pursuit for food, water, shelter and electricity remains a priority. This new normal is devastating for so many residents of former island paradises, such as St. Thomas, Anguilla, Puerto Rico. St. Maarten and St. Lucia.
The killer weather in the eastern part of the Caribbean Sea came mere days after the hellish floods and wind in Texas and on the way to Florida.
For the most part, the mainstream media have not given proportionate attention to many of the smaller, yet still hard-hit, islands, but the Caribbean Diaspora is coming together to gather as much aid as possible.
New Yorkers, of course, are a part of this noble and necessary effort.
For example, Saturday, Oct. 7, has been designated "Caribbean Day of Giving." On that day, organizers say, the Caribbean Diaspora and friends will be taking part in a radiothon to support Caribbean countries affected by hurricanes Irma and Maria.
The Caribbean Tourism Organization Relief Fund sponsored "Caribbean Day of Giving" radiothon will be hosted on WVIP-FM (93.5FM). The organizers say there will be a variety of "giving platforms, including direct calls, text messages and internet. Opportunities for individuals wishing to donate in-kind goods, will also be featured."
Akelia Lawrence-Maitland, Jamaica Diaspora advisory board member to the Northeast USA, said that the Caribbean Diaspora Disaster Relief Coalition-organized event, "is an excellent opportunity for all of us in the Diaspora to come together to help these countries severely impacted by these hurricanes as well as to demonstrate the collective will and power of our Caribbean Diaspora community."
She added, "To this end, we are extending an open invitation for all radio programmers, community groups and businesses to become a part of this most important day."
In a press release, the organizers said that the relief efforts will benefit the CARICOM-affiliated Caribbean Disaster Emergency Management Agency, which is the official body coordinating relief efforts to the various Caribbean countries affected by the hurricanes. For more information, log on to www.caribbeandayofgiving.com or call 516-713-8270.
Brooklyn is home to one of the largest population of Caribbean-Americans in the country. Flatbush-based State Senator Kevin Parker told the AmNews, "The unthinkable destruction caused in Caribbean by the recent monstrous hurricanes have not just affected the region, but impacted all of us. Indeed, at the heart of our concern is the loss of life. However, even as we mourn we must continue to work assiduously to rebuild he region, especially places like Dominica, Tortuga, St. Martin and Barbuda, which were decimated. As the cleanup continues and airports and hotel industry slowly begin reopening for business we cannot forget that the damage to the physical and human capital will remain for a long time. ... I am happy to see at the micro level communities everywhere have been organizing relief aid projects and sending much needed critical items to the region. At the macro level those unable to do the hands-on work have been opening their 'Samaritan's purse' and contributing to the major relief organizations doing work on the ground in the region. With its reduced productivity capacity, we are aware that the export and tourism products of the Caribbean will be greatly affected. Therefore, this is the time when our action must bring to life the words of the one of the greatest voices of the Caribbean and show that we are of 'One Love, One Heart!' with our Caribbean neighbors."