Storms' Aftermath: NYers front and center in hurricane relief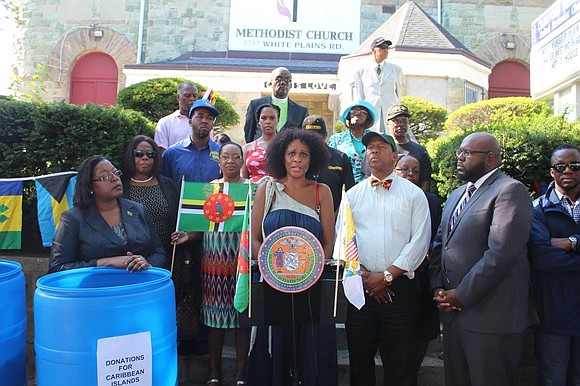 John Coombs, firefighter and member of the Vulcan Society told the AmNews, "As we look to rebuild many of the islands devastated by Irma, Jose and Maria. It is mind-boggling as to who needs the most help and what do we start with! Some of the American commonwealths like PR are already getting assistance from FEMA, but the other islands badly devastated are still in need of help. Antigua and Barbuda is in need of supplies of all kinds, mainly personal care items, men women and children clothes and underwear, building supplies. These items can be dropped off at locations around the city. 
Speaking on the Senate floor, U.S. Senator Kirsten Gillibrand urged her colleagues to provide desperately needed disaster relief to the people of Puerto Rico and the U.S. Virgin Islands.
Gillibrand said, "This is one of the worst disasters our country has ever seen. The men and women and children who live on these islands are American citizens. Do not forget that. They have no food to eat. No water to drink. No power. No refrigeration. If we don't give them help now, then many more people there will die—far more than those who were killed during the hurricane itself. I urge my colleagues here to think about our fellow American citizens in Puerto Rico and the U.S. Virgin Islands and what they are suffering through right now."
The AtlantaBlackStar.com said that a "disconnect leads to the trivialization of nonwhite disaster victims" noting, "As the Caribbean tends to hold a temporal place in the American consciousness—a place that is visited and enjoyed for a short amount of time and then forgotten—the reality of what happens there once the tourists leave tend to be ignored. This, however, does not trivialize that millions will be forced to live the ramifications of this hurricane season for years to come."
"Calling on all NYC grassroots community-based organizations to meet and find common ground," Zulu Nation's King Sadiki "Bro. Shep" Ojore Olugbala, veteran Black Panther Party member, told the AmNews that a meeting is planned for Oct. 4 at Harlem's National Black Theater, "in order to collectively respond to this past summer's catastrophic hurricanes and/or earthquake disasters in Florida, Texas, Mexico, Cuba, Puerto Rico, the Virgin Islands and the rest of the Caribbean.
"Come and join with veteran members of both the Young Lords Party and the Black Panther Party," he said, "along with a host of other concerned grassroots activists and politically conscious performing artists for a meeting of the minds, in order to initiate our collective organizing of community-based cultural events in NYC to provide support for our sisters and brothers in Puerto Rico and throughout the rest of the devastated Caribbean."
Veteran activist Olugbala, who never blinked in the face of political analysis, added, "We all know from the history of hurricanes Matthew, Katrina and Sandy that long after all of the other historically corrupt and mismanaged multimillion dollar professional relief corporations do their usual disappearing act, when main stream media decides that Black and Brown people have become 'old news,' that our sisters and brothers still matter and will need our love and assistance on the road to recovery."