Trump uses athletes as a diversion from critical issues
JAIME C. HARRIS | 9/28/2017, 4:38 p.m.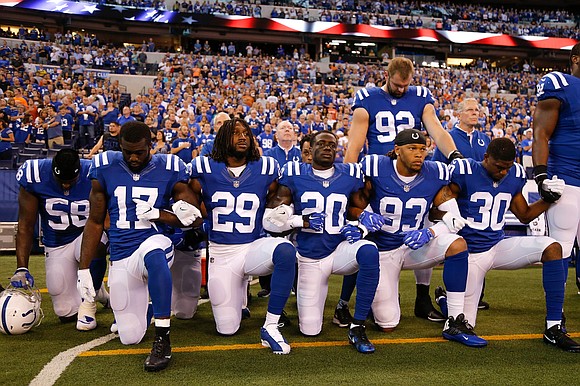 Donald Trump continues to effectively use athletes and others whose livelihoods are considerably tied to sports to divert the masses' attention from critical issues confronting this nation.
Yes, the 45th president of the United States is conclusively impulsive and lacking the requisite level of emotional and fundamental intelligence to competently lead this country through a challenging economic and social period of our history. However, the consummate con man, one of the best the world has ever seen, is strategic and smart in his application of diversionary tactics to shift focus away from his legislative failings and the scandals that perpetually plague his administration.
Trump's rant Friday regarding NFL players' protests seeking racial and social justice was by and large another scripted scene in his now transparent and inauspicious act playing out on the world stage. Unprompted and seemingly randomly, the 71-year-old president, who comports himself more like a 15-year-old high school sophomore, railed against athletes exercising their First Amendment right "of the people peaceably to assemble" as the United States Constitution unambiguously reads.
Appearing at a campaign rally in support of incumbent Alabama Republican senator Luther Strange—who lost a primary runoff Tuesday for the party's nomination to the polemic former Alabama State Supreme Court judge Ray Moore—Trump raucously voiced his preference in how he thinks NFL owners should address the protesters who display various forms of demonstrations during the ceremonial playing of "The Star-Spangled Banner" before the start of games.
"We're proud of our country, we respect our flag," Trump said as he ginned up his rabid supporters in Huntsville.
"Wouldn't you love to see one of these NFL owners, when someone disrespects our flag to say, 'Get that son of a bitch off the field right now! Out. He's fired! He's fired!'"
Trump's comments immediately went viral, as he knew they would, and the provocateur persuasively shifted much of the focus away from Republican lawmakers' efforts to once again repeal and replace the Affordable Care Act, more commonly known as Obamacare, as well as away from his slow and callous response to the massive humanitarian crisis in Puerto Rico caused by Hurricane Maria.  
He intensified the controversy with a series of subsequent tweets reiterating his position on the debate.   In defense of the players and themselves, NFL Commission Roger Goodell and many owners, even those who backed Trump's presidential campaign, put forth statements condemning his divisive words. 
Furthermore, Trump's intentions were twofold. In addition to marginalizing the concerns of people of color, he continued to appease and solidify his base, which is composed heavily of racial and religious bigots and white supremacists, by spewing rhetoric replete with racist connotations. His use of the offensive term "son of a bitch" to refer to NFL protesters, most of whom are Black, was purposeful. It was his nuanced way of denigrating Black women.
The people of this nation who seek racial, social and religious equality should not be hoodwinked by a master flimflam artist who, time and time again, plays three-card monte with the fragile lives of millions.