CUNY professors' invention helps vision-impaired toddlers walk safely
4/5/2018, 3:46 p.m.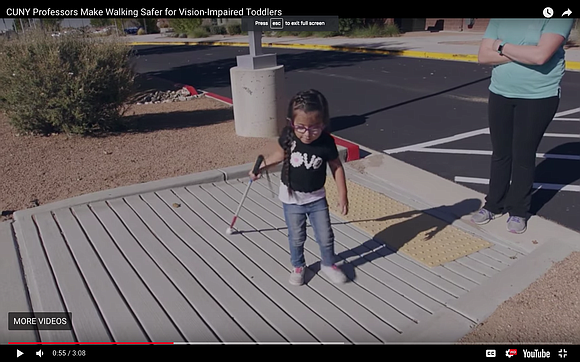 Professors from two colleges at The City University of New York have developed a wearable cane that allows blind and severely vision-impaired toddlers to walk safely, long before they develop the cognitive skills and manual dexterity needed to use a traditional, handheld white cane. The wearable "toddler cane" fastens around the waist, positioning two attached white shafts joined with a U-shaped bumper on the ground two steps ahead, providing the child with continuous, next-step warning.
The cane might do more than help toddlers avoid falling over objects and walking into walls and trees. Research has found that childhood blindness also can lead to delays in speech, motor function and the ability to play and socialize. Ongoing research by the professors indicates that connecting vision-impaired toddlers with their world, through the wearable toddler cane may well reduce or avoid those complications.
"Vision-impaired toddlers want to run and explore the world just like sighted kids, but they trip over unseen objects, fall and walk into walls," explained toddler-cane inventor, Grace Ambrose-Zaken, who coordinates Hunter College's master's program in rehabilitation, teaching, and orientation and mobility (O&M). "Those who can't move around independently without hurting themselves tend to avoid moving. They don't play by themselves, but lay on the floor and twirl around because they are prisoners in their space and moving is fraught with danger."
"This simple, yet extraordinary device is another example of the genuinely life-changing research going on at CUNY," said chancellor, James B. Milliken. "I could not be prouder of our faculty and more pleased for the children and families who will benefit from this wonderful invention."
One stunning effect of the cane that is readily apparent in video footage that Ambrose-Zaken shot is that youngsters suddenly walk— indeed, run—straight ahead.
"All of that happens instinctively and in a snap," said Brooklyn parent, Karen Dunlap, who in her work life sources and sells tea. "My daughter's O&M specialist shared a video of Grace demonstrating a very early prototype and I contacted her immediately." Léa has a little-known condition, cortical visual impairment, from a stroke after birth, which primarily affects her safe mobility. "I just had to have one for Léa and from the first time she wore the toddler cane, there were dramatic differences in her being able to walk upright. Before, Léa's head was always down and she couldn't walk straight, but when she wore her cane, she walked upright and straight," Dunlap said.
When a City College biomedical engineering professor, Marom Bikson, learned about Ambrose-Zaken's work, he volunteered to help her perfect the design, produce prototypes and ramp up for manufacturing. Bikson remembers, "As a father of two toddlers, I saw the absolute necessity for this device, so I offered to help make it." At City College's Grove School of Engineering, Bikson manages a program that develops medical devices. His special focus is treating neurological and psychiatric disorders, like depression and development delays.
Since then, the project won a grant from the U.S. Department of Education for the first phase of testing, allowing the team to conduct prototype-development trials using state-of-the-art, rapid-prototyping facilities, including 3-D printers, in fabricating the toddler canes, which are currently custom-made to fit each child.
The CUNY professors are now seeking additional government and foundation funding for phase-two development, including reducing the cost of manufacturing. There also will be additional clinical trials to collect more data on the benefits of the toddler cane, not simply on mobility but also on general measures of well-being and development. Through support from CUNY foundations and the U.S. Department of Education, canes are provided cost free to users participating in the clinical trials.