Knicks need to give the fans a positive ending
Jaime C. Harris | 4/5/2018, 3:49 p.m.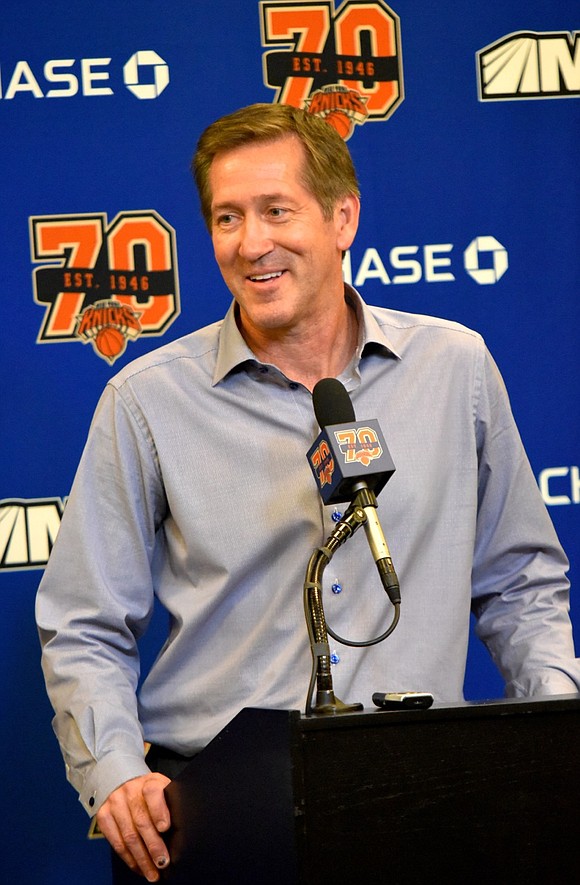 A plurality of loyal Knicks fans that were at Madison Square Garden Tuesday night and endured their team's listless 97-73 loss to the Orlando Magic affirmed they are not proponents of tanking. The crowd evidently wasn't concerned about the Knicks' draft position as much as they were about being provided a representative effort. Consequently, the engaged supporters booed as the game wound down, disappointed by the Knicks' performance.
They have four more games remaining, including three games at MSG and they need to gift the fans a positive ending. "You gotta just keep playing," said Knicks head coach Jeff Hornacek regarding his players appearing to concede the game late in the fourth quarter. Referencing his former coach when he was a player for the Utah Jazz, Hornacek recounted, "After the game, Jerry Sloan always said if you could look yourself in the mirror and say, 'You know, I did my best and we lost [but] it didn't go well,' then you can go home and go to sleep fine."
Hornacek continued, "If the guys didn't, then that's gotta be on them. The season's not over. We still have a couple more home games. If they come out and shoot the ball like that, it's going to be really ugly." 
Playing without starters Michael Beasley and Enes Kanter, the Knicks missed 56 of 86 shot attempts versus the Magic.
Beasley was experiencing an illness and Kanter was inactive for the second straight game with a sore lower back and right wrist, sustained last Wednesday against the Philadelphia 76ers. Still, the Magic arrived in New York with a record of 22-54, five less wins than the 27-51 Knicks. Furthermore, the Magic were also missing two of their best players because of injuries in starting shooting guard Evan Fournier and starting small forward Jonathan Simmons.
"I want to see pride," said Knicks guard-forward Tim Hardaway Jr., who scored a team-high 16 points but misfired on six of seven shots from behind the three-point line. "Everybody having an urgency and the fight to go out there to compete on every given night." 
Hornacek shouldn't be the scapegoat for an unfulfilling Knicks season, as his human assets— translation: a dearth of playoff caliber talent—are limited. His circumstances notwithstanding, he must find a way to compel his players to leave fans feeling they concluded the season exhausting every ounce of their ability.