Queen-mother Yaa Asantewaa led the fight against British colonialism
Herb Boyd | 4/5/2018, 1:16 p.m.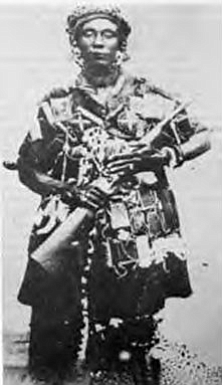 Several writers in their reviews of the current "Black Panther" film have evoked Yaa Asantewaa, finding resemblances of this historic figure in the film's fictional land of Wakanda, particularly of Okoye, the general of the warrior women of the Dora Milaje.
But it's a considerable mythical and factual distance between the true African warrior queen and the character derived from a Marvel comic book.
There is no absolute date of birth for Yaa Asantewaa, although several sources cite that it was around 1840, and she was the Queen-mother of Ejisu in the Ashanti Empire, now part of Ghana. She had one sibling and they worked the land near their home in southern Ghana before she entered a polygamous marriage with a man from Kumasi. They had one daughter. Her designation of Queen-mother was an appointment by her brother, Nana Akwasi Afrane Opese, who was the Edwesuhene, or ruler of Edwesu.
Yaa must have been in her late 50s or early 60s when she led the "War of the Stool" or the "Yaa Asantewaa War" against British colonialism. In one of his last books "Notes for an African World Revolution," Dr. John Henrik Clarke observed that the "Ashanti people cherished the Golden Stool as their most sacred possession. To them it is the Ark of the Covenant. Ashanti kings are not permitted to sit upon it. The demand for the stool was an insult to the pride of the Ashanti people and it started the last Ashanti war. It was known as "The Yaa Asantewaa War" because Yaa Asantewaa, the reigning queen, Mother of Ashanti, was the inspiring spirit and one of the leaders of this effort to save the Ashanti kingdom from British rule.
"After nearly a year of heroic struggle, Queen Yaa Asantewaa was captured along with her chief insurgent leaders," Dr. Clarke continued. "At last the British gained control over the hinterland of the Gold Coast. To accomplish this they had to fight the Ashanti for nearly a hundred years."
Author E.A. Addy in "A History for Primary Schools," offers more details on the role played by Yaa Asantewaa in the war against the British. According to Addy, a secret meeting among the chiefs was held one evening in Kumasi. The main topic of discussion was how to wage war against the white men and bring back the Asantehene, or the king. Yaa was at the meeting and was disturbed hearing some of the chiefs choosing to beg the British to restore the king Nana Prempeh. She stood up and declared, "Now I have seen that some of you fear to go forward to fight for our king. If it were in the brave days of, the days of Osei Tutu, Okomfo Anokye and Opoku Ware, chiefs would not sit down to see their king taken away without firing a shot. No white man could have dared to speak to chief of the Ashanti in the way the governor spoke to you chiefs this morning. Is it true that the bravery of the Ashanti is no more? I cannot believe it. It cannot be! I must say this: If you the men of Ashanti will not go forward, then we will. We the women will. I shall call upon my fellow women. We will fight the white men. We will fight until the last of us falls in the battlefields."