Remembering Winnie Mandela
Rev. Herbert Daughtry | 4/5/2018, 1:49 p.m.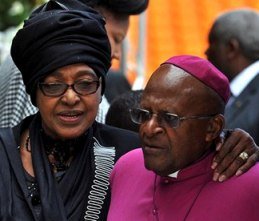 Mandela's courage and boldness in facing formidable enemies inspired my wife to start an organization called Sisters Against South African Apartheid. They contributed substantially to the freedom of South Africa and Mandela.
The last time I saw Mandela was at her ex-husband's funeral at his ancestral home in Qunu, South Africa. There were 4,000 people at the funeral in a huge tent. Can you imagine my feelings when my name was called unexpectedly during the funeral by Nelson Mandela's grandson as one of the veterans of the Free South Africa/Free Mandela Movement?
When the funeral was over, we marched a slight incline of approximately 50 yards to the actual burial site. Only 400 were invited to the interment. I was profoundly honored to participate in the actual burial. Only 17 ministers participated. The Rev. Jesse Jackson and I were the only ministers from outside of South Africa. I was pleased to bring along my grandson, Minister Lorenzo Daughtry Chambers.
When I looked at Mandela, her shoulders were bent with the heavy burden of grief, but when our eyes met, she somehow summoned the strength to smile. I shall remember her always as a tough, courageous, audacious and no-nonsense sister, who personified the love and courage of freedom fighters through the ages and who, through the years while her husband was imprisoned, became the face of the Free South Africa/Free Mandela Movement. Yes, it's a sad time, made even more so when we relive the 50th anniversary of the assassination of the Rev. Dr. Martin Luther King Jr.
There is hope—a hope of life beyond the grave! This hope is brought home to us by the resurrection of Jesus Christ and the hope for a better world for which the Rev. Dr. Martin Luther King Jr., President Nelson Mandela and Winnie Mandela gave their lives.
I will live through this sadness. I will always be hopeful and see her beautiful smiling face.