Winnie Madikizela-Mandela, "Mother of the Nation," dies at 81
HERB BOYD, Special to the AmNews and NAYABA ARINDE, Amsterdam News Editor | 4/5/2018, 8:49 a.m.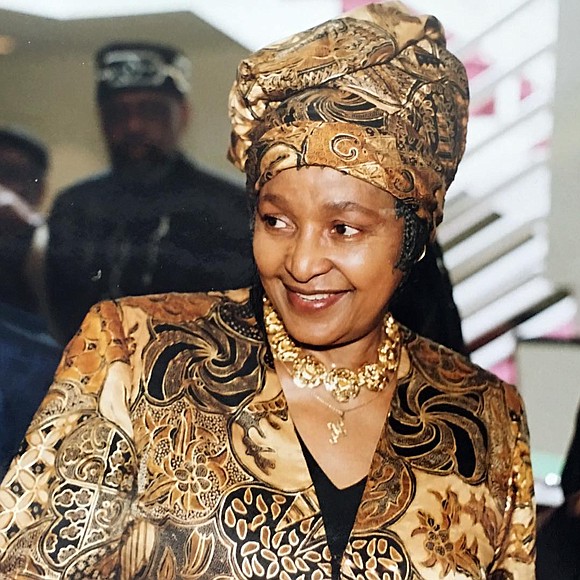 From the moment Winnie Madikizela-Mandela married Nelson Mandela in 1958, she knew she had "married the struggle, the liberation of my people."
She had first seen Nelson Mandela in the Johannesburg Regional Court, where he was representing a friend of hers. Later, she was formally introduced to him by Oliver Tambo, Nelson's law partner, who came from her village of Bizana in the Transkei, a Bantustan. Nelson was married and 16 years older than Winnie.
They barely had time to consummate their marriage because Nelson had been accused of treason and was on trial. When passes were denied to the wives of the prisoners Madikizela-Mandela joined the protests. She had been working at Baragwaneth Hospital as the first medical social worker in the country. "But after I was arrested, I lost my job," she wrote.
The arrest and her subsequent affiliation with other women brought her into the Federation of South African Women, with a leadership position similar to the one she had forged in ANC Women's League.
At the end of the treason trial in 1961, Nelson Mandela went underground and that was the last she would see of him for years. "I had so little time to love him, and that love has survived all these years of separation," she wrote in 1984.
In 1962, Madikizela-Mandela began serving 20 years of banning by the South African government. The charge against her was that she was the wife of Nelson Mandela. Along with her activism, particularly the campaign to free her husband and the other political prisoners, she had to care for her two children, Zeni and Zindzi. Then there was the persistent harassment from the agents of apartheid. Madikizela-Mandela endured 17 months of solitary confinement in the Pretoria Central Prison.
A year after her participation in the Soweto Uprising in 1976, she was banished to Brandfort, a Black township. It was not until 1984, while Nelson Mandela was in Pollsmoor Prison, that the couple had a chance to see and touch each other.
Six years later, they walked hand-in-hand from Cape Town's Victor Verster prison, Feb. 11, 1990. With her free hand, Madikizela-Mandela gave the crowd a clenched fist, Black Power salute. Twenty-seven years of incarceration and separation had kept them apart but united in their struggle for total liberation. In 1994, Nelson Mandela was elected president, the first Black South African to achieve that plateau.
A freed Nelson Mandela was confronted with Madikizela-Mandela's predicament stemming from her association with the Mandela United Football Club, when one of her enforcers was charged with the death of an alleged informant. His body was found in Soweto near Madikizela-Mandela's home. She was sentenced to six years in jail, but the penalty was reduced on appeal to a fine.
Madikizela-Mandela and Nelson Mandela separated in 1992, and the split grew worse when he removed her from the government cabinet three years later for alleged corruption. A year later, they divorced, at which time she changed her name to Madikizela-Mandela.
By whatever name, she, in the words of Archbishop Emeritus Desmond Tutu, "refused to be bowed by the imprisonment of her husband, the perpetual harassment of her family by security forces, detentions, bannings and banishment. … Rest in peace and rise to glory."