Cosby attorney goes after Andrea Constand in calculated opening
Stacy M. Brown (NNPA Newswire Contributor) | 4/11/2018, 9:34 a.m.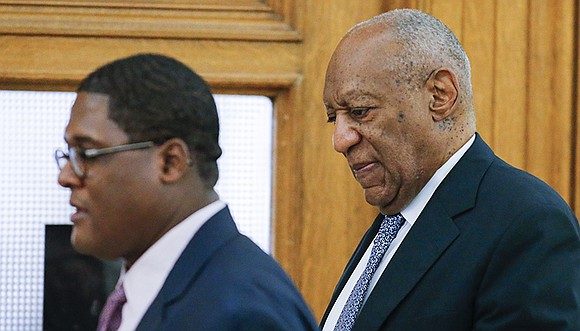 NORRISTOWN, Pa.—Prior to defense opening arguments in the retrial of comedian Bill Cosby, famed attorney Tom Mesereau was billed as a smooth, peerless, courtroom professional.
On Tuesday, Mesereau didn't disappoint.
The man who helped the King of Pop Michael Jackson and "Baretta" star Robert Blake secure improbable acquittals, gave a textbook opening argument that kept the jury riveted and cast doubt on the prosecution's entire case.
"Members of the jury," Mesereau said calmly, before tearing apart the credibility of Andrea Constand, who claimed that Cosby drugged and sexually assaulted her in 2004. "Andrea Constand worked for Temple University and, as part of her duties from 2002 to 2003, [she arranged] for travel for the women's basketball team. On at least six occasions, she arranged to share a hotel room with another Temple University employee, Marguerite 'Margo' Jackson."
The attorney explained that Constand had previously denied knowing Jackson.
"And, with good reason," Mesereau said.
Jackson, who works with victims of sex assault, had listened as Constand watched a television news report about a celebrity accused of sexual assault. Constand, according to Jackson's sworn testimony, originally said she too had been victimized.
When Jackson pushed her to report it, Constand admitted that it was a lie.
"But, she told Margo that she could make up such a claim and get a lot of money," Mesereau told the jury. Later, while on a cruise, Jackson saw Constand on the news making such claims against Cosby.
"She pulled it off," Mesereau said.
The lawyer went on to tell the jury how Constand only wanted money; that she had been in serious debt and Cosby had repeatedly tried to help her in her quest to become a television personality.
"He introduced her to writers from the 'The Cosby Show,' and movie producers, but she just didn't cut it," Mesereau said.
He pointed out how Constand's story about her relationship with Cosby changed after being questioned from police officers from three different agencies.
Most important, she had claimed to one department that she had only been at Cosby's home once and that they had never been sexually active prior to that.
However, in another interview, Constand admits to going to Cosby's home several times prior to and after the date of the alleged January 2004 incident.
Cosby faces up to 30 years in prison if convicted of the three counts of aggravated indecent assault charges against him.
Mesereau painted a picture of a "lonely" and "depressed" Cosby, turning to the younger Constand to confide in.
"His only son was murdered, and, around the same time, he was being extorted by a woman for $40 million," Mesereau said. "Constand kept coming to see him and not one time did he go to see her."
He noted on one late night occasion, Constand drove more than four and a half hours to see Cosby at Foxwoods Resort and Casino where she "had dinner with Cosby and the resort manager and then, after the manager left, she admitted in a deposition that she snuck back into his hotel room late at night, got in bed with him and fiddled with his feet."