Guns Down, Life Up
DR. JOHN M. PALMER | 4/12/2018, 12:21 p.m.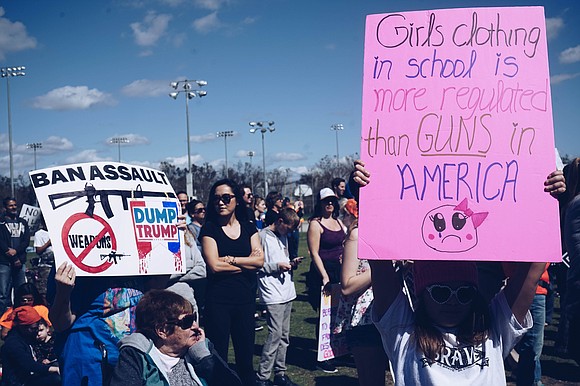 The last few weeks in America have witnessed a whirlwind of activity led by the nation's youth, in concert with their parents, teachers, etc. demonstrating in support of the need for a major focus on gun control. The echoes of those demonstrations have been heard in the concrete canyons of New York City, nationally and internationally. These activities have been supported by the Hon. Bill de Blasio, mayor of New York City, stating that he too would be part of the demonstration if he were of high school age. And indeed, he did join in. With that in mind, we respectfully challenge the mayor to have his actions better complement his rhetoric by encouraging and supporting NY City's own Anti-Gun Violence program, Guns Down, Life Up. It appears to many that he might have mistakenly supported the demise of this critically important program.
New York City has taken full and well-deserved credit for dramatically reducing of the violent deaths of its citizens by a combination of legislation, aggressive policing and community collaborations. Much of this work has been done in NYC Health and Hospitals, the public hospital system. GDLU is the innovative creation of a knowledgeable system that recognizes that gun violence is a public health problem. The program is in the process of being completely gutted by the cutting knife of the NYC budget reduction process controlled by City Hall.
For four years, a little more than 24 professionals have been implementing a citywide, strategic plan to reduce the number of people shot in the most challenging neighborhoods in NYC, including Harlem, South Bronx, Bed-Stuy, Brownsville and South Jamaica. GDLU has successfully instituted an inside-out approach. Inside: Train health professionals to engage the victims of gun violence to understand their increased risk of death once they suffer one penetrating wound. Outside: Support the community's efforts to educate itself on the methods of preventing youth from engaging in activities that lead to gun violence. Hospitals, including Harlem, Lincoln, Bellevue, Coney Island, Kings County, Queens and Gouverneur were and remain "all-in" for GDLU.
More importantly, hundreds of inner city youth passed through the mentoring programs created by GDLU. Each NYCHH facility committed to developing a home-grown approach to mentoring young men at risk for involvement in gun violence.
So despite our city's documented success in reducing shootings and murder by guns, the door, unfortunately, has been left open for the slippage. As a wise NYPD detective once told me, "There has been no change in the flow of guns through NYC. It's the change in attitude that has kept more people from making the decision to shoot."
Our attitude changers are being eliminated by lack of fiscal support. Join with The Greater Harlem Chamber of Commerce as we convey to City Hall and our other elected officials the need to keep the Guns Down, Life Up program alive.
John M. Palmer, Ph.D., is chairperson of The Greater Harlem Chamber of Commerce Health Committee.