Thank you, Mama Winnie Mandela, and farewell
Dr. Phumzile Mlambo-Ngcuka | 4/12/2018, 1:38 p.m.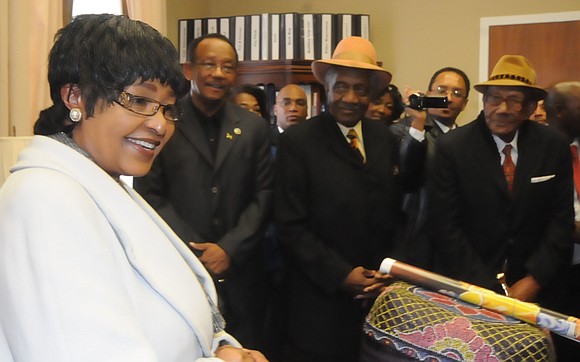 She is a symbol of struggle, courage and no surrender.
She married Nelson Mandela at the age of 23 in Johannesburg. As a young bride and mother of young children, she was deprived of her husband who was imprisoned.
She found herself having to be strong for her family and the nation, as a treason trial sent Mandela and his co-accused to jail, and many more went into exile and into banishment. It robbed South Africa of its leaders and banned its political organizations. It was a reign of terror.
Mama Winnie stood tall and made sure those who were being made invisible were kept visible in the eyes of South Africa and the world; those who were being silenced, she raised their voices.
Thank you to the solid anti-apartheid support all over the world. We shall never forget the solidarity we enjoyed from every corner of the world and the boost it gave to the resistance of the people of South Africa.
Despite being arrested, being tortured, being kept in solitary confinement and being banished, she defied the system that oppressed her.
She confronted it at every turn, risking her life.
Her courage in front of a system that had intimidated and destroyed lives and families mobilized people from all walks of life to rise a thousand times.
As she stood tall in front of the feared system, she made the system look smaller than her. For many she stood taller than the oppressor, and many found their courage from her—myself included.
There is a popular phrase in SA that many say describes Mama Winnie: "Wathinta abafazi wathinta imbokodo uzokufa." English translation: "You struck a woman. You struck a rock. You will perish."
I agree she was a rock. When you struck her, you got hurt. When you leaned against her, you got support.
She was not just married to an icon, she was an icon in her own right on whose shoulders men, women, youth and communities stood.
When she was beaten down, she rose up with many more.
At the end of her life, we say she did not die—she multiplied.
Thanks to you all for honoring her memory.
Dr. Phumzile Mlambo-Ngcuka
Under-Secretary-General
Executive Director of U.N. Women