Presidential race takes an unexpected twist in Nigeria
(GIN) | 4/12/2018, 1:05 p.m.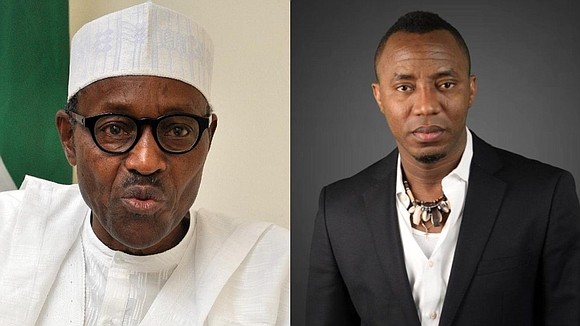 Next year's race for the presidency in Nigeria just got a lot more interesting as a crusading journalist—an upstart known for exposing the millions and billions stolen by a national "loot-ocracy"—announced his candidacy for the nation's top job.
As news spread that the journalist, Omoyele Sowore, was testing the waters for national office, President Muhammadu Buhari, age 75, reminded Nigerians that he too would be a candidate, ending months of speculation that the president might step down.
At a recent meeting with ruling party leaders, Buhari explained that he heard "the clamor by Nigerians" urging him to run again in 2019.
Until this week's announcement, Buhari was considered a candidate for retirement. Serious health issues took him to doctors in the U.K. for a total of five months last year. A campaign promise to stamp out the Boko Haram insurgency fell short as militants raided a school in February in a reprise of a similar attack in 2014.
Speaking to a reporter, Sowore listed problems of the current regime, starting with unemployment. "Over 20 million Nigerians who are qualified to have jobs, most of them young people, have no jobs and unemployment rose in 2017," he said. "The economy is in shambles … health care is a disgrace. When the president has to go overseas for treatment, what do you think the quality of care is for ordinary Nigerians?"
He continued, "Our political system continues to be defined by corruption. Not a single major conviction for corruption has been achieved under Buhari."
Nigerian analysts say Buhari will have an uphill battle to win another term. "There are multiple factions in his party who don't want him to have a second term," said Cheta Nwanze at the Lagos-based risk advisory, SBM Intelligence. "They will coalesce against him now."
New third party movements are the Coalition for Nigeria, touted by former President Olusegun Obasanjo; the Nigerian Intervention Movement, headed by human rights lawyer Olisa Agbakoba; and the Red Card Movement, led by Obiageli Ezekwesili, a former minister and former vice president of the World Bank.
"I will be contesting for the presidency of this nation whose development has been 'arrested,'" said Sowore, founder of SaharaReporters.com, a website of citizen journalism supplying videos, photos, news stories and commentaries that expose official corruption and abuse in Nigeria's government.
"What I have learned in my 47 years on Earth … is that if you want to see things change, you have to do it yourself."
The presiding judges have adjourned until April 26, when they will announce a date to reveal their judgment.