Celebration of life, work and times of Winnie Mandela
Amadi Ajamu | 4/12/2018, 2:12 a.m.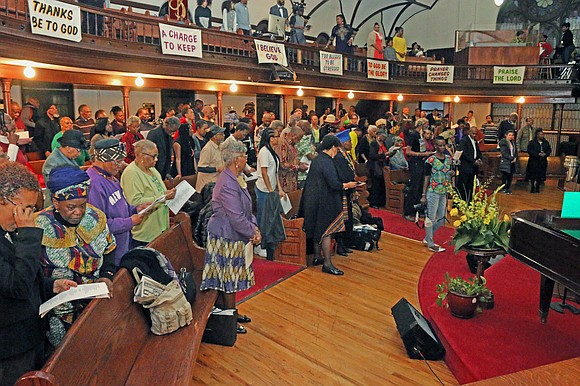 April 2, 2018, African people lost a true revolutionary warrior. Winnie Mandela's name will carry on through in the lives of all Africans fighting for freedom and liberation. In the United States, the anti-apartheid movement raged throughout the streets across the country. In Brooklyn, N.Y., the Rev. Dr. Karen Daughtry of the House of the Lord Church founded the Sisters Against South African Apartheid in 1986 and established a strong bond with Mandela and her sister comrades in South Africa.
Tuesday, April 10, 2018, the Rev. Daughtry held a celebration of the life of our warrior sister Mandela. Reflections were spoken by many guests at the House of the Lord Church, including Dr. Cheryl Anthony of Judah International, who recalled Mandela's visit to New York.
"We needed a large site to greet her," said Anthony. "At that time, I was the director of Public Affairs at the Brooklyn Academy of Music. The administration's response was not very good. They gave her every excuse not to host Winnie Mandela until Sonny Carson paid them a visit. Suddenly they said they could do something there for her."
Assemblyman Charles Barron and City Council Member Inez Barron paid tribute to our Queen Mother Mandela and spoke of the tremendous battles she fought against the racist apartheid regime. "Brutality, torture and solitary confinement," Charles Barron commented. "She said, 'There is no pain I have not known.'"
But she never broke down. In a video clip, South African comedian Trevor Noah said, "South Africa is a matriarchal society and the women are dangerous. Nelson Mandela was an icon and a leader, but the police were very afraid of Winnie Mandela."
Viola Plummer, chair of the December 12th Movement entered with raised fist. "Amandla! Amandla!" she declared. "Winnie said revolution and liberation of South Africa. She said for those of you who believe in freedom; who believe that as African people we should be free, support us. And we supported them in the manner in which we did. We sent supplies, sent boots, and flap jackets, and we sent other things that they might need.  Long live Winnie Mandela!"
Praise dances and songs by Obadiah Wright's Balance Dance Theatre and the House of the Lord Anointed Voices lifted the spirits of the audience, and film clips of interviews with Mandela had them mesmerized. Her spirit and strength was exhilarating.
The Rev Herbert Daughtry closed out the ceremonies with anecdotes and history lessons.
Long live the spirit of our warrior queen, Winnie Mandela!