UniverSoul Circus: 25 years and stronger than ever!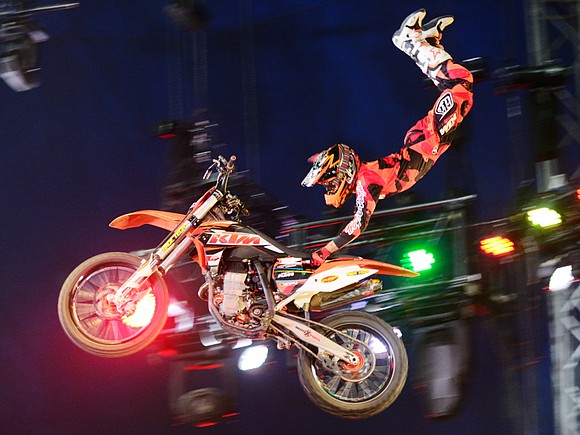 The Soul Train Line was next and, as always, it was a blast! At the performance I attended, the men put it down! Using a pole that was hanging in the air, a couple did a very romantic dance—Duo Amore—bending their bodies in all kinds of interesting ways as they performed a lovely dance. The flexibility of their bodies was impressive to watch.
Audience participation was the name of the game next. Kids were called out and the "Little Einstein" theme played for them while they, along with the entire audience, sang the words. Music was played that appealed to those 16 and up and to the ladies in the audience. The entire audience had a marvelous time singing "My Girl."
Rough riders from Russia and Trinidad and Tobago, both men and women, did fascinating moves while horses galloped around the ring. A few of the men were able to run and leap onto a galloping horse. These skilled riders could also climb around the horses' necks as the horses kept galloping.
Acrobats working with a teetering board did a magnificent job as they flipped onto each other's shoulders; a totem pole of men jumped rope. There was so much flipping and landing going on, you couldn't blink because you didn't want to miss a move.
I love the entertaining audience participation ideas that UniverSoul Circus uses; the audience danced in their seats to the "Cha Cha Slide" and they had a chance to sing and move to "Watch Me Whip."
The second part of the circus opens with what I think is one of the most exciting acts I've experienced at any circus and that is the daredevil motorcyclists. These guys came roaring into the tent and were flying high—Wow, what an act! There are three men this year who are the daredevils, and their act is simply the thrill of a lifetime to experience!
Two young ladies did an act with another pole that hung in the air. Their moves displayed great skill and elegance. These young ladies are very limber. Then, it was bouncing ball time and everyone got involved. What fun that always is. A trapeze act was next and it was stunning to watch as the catcher switched acrobats by swinging them to each other.
This year the circus has a children's dance competition, in which three children are picked by the clowns and dance their little hearts out with sections of the audience cheering them on.
As I have said, this circus is great when it comes to audience participation, and its creators are geniuses to realize that there can never be too much audience participation. Another staple that they did with the audience was Simon Says, and everyone enjoyed it immensely. The elephant act ends the show under the big top. The elephants sat up, balanced on two feet and lay down when told to do so.
Walker is to be acknowledged and congratulated on the fact that his circus does something that other circuses don't. It works to cover what's happening in the world at the moment, and it has the guts to reinforce positives and not negatives. The ringmaster had the children say a ringmaster pledge that encourages all to love everyone no matter the color of their skin or the difference of their beliefs.
This circus is one that everyone needs to see. You will be blessed with feelings of inspiration, hope, love and joy if you and your family go and see the UniverSoul Circus! It will play at Roy Wilkins Park in Queens through April 8; in Brooklyn at Floyd Bennett Field from April 11-29; and in Mount Vernon, N.Y., at Hutchinson Field, May 2-13. To get ticketsm, call 800-745-3000 or visit www.universoulcircus.com.