Remembering No. 42, Jackie Robinson
4/15/2018, 11:29 a.m.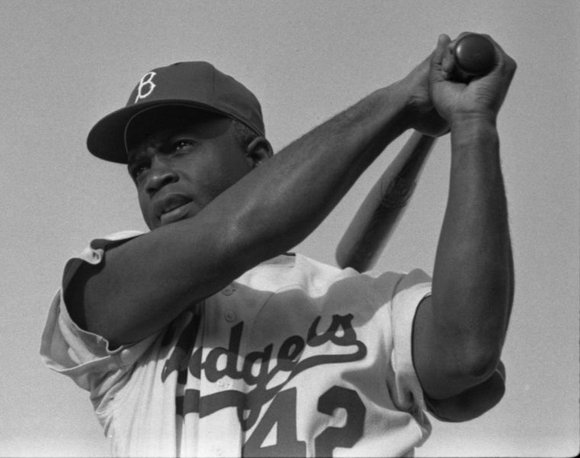 Imagined being offered the career opportunity of lifetime with one catch--you had to hold your anger no matter how much you were taunted, disrespected and even physically abused because of your race. Robinson's ability to keep his cool was as important as his athletic skills. The result was to break the color line of America's sport--baseball. That's exactly what Jack Roosevelt "Jackie" Robinson did when he became the first Black athlete to play Major League Baseball.
In 1867, the National Association of Base Ball Players was formed, but Black athletes were not welcome. While they did play alongside whites in the minor leagues, their careers were oftentimes cut short by racial prejudice.
But by the early 20th century, Black ball clubs were forming and baseball was the biggest form of entertainment for urban Black America. Andrew "Rube" Foster announced that the time had arrived for a Negro League, and in 1920, the Negro National League was born in Kansas City with eight teams: the Chicago American Giants, Chicago Giants, Cuban Stars, Dayton Marcos, Detroit Stars, Indianapolis ABCs, Kansas City Monarchs and St. Louis Giants. Satchel Paige, Josh Gibson, Cool Papa Bell, Judy Johnson and Oscar Charleston are just a few of the Hall of Fame players who would leave their mark on the baseball world. But even with that roster of talent, Black players were still not welcome in major league baseball.
Jack Roosevelt Robinson was born on Jan. 31, 1919, in Cairo, Ga. His parents, Jerry and Mallie Robinson, were sharecroppers.
Jerry Robinson left and the family moved to Pasadena, Calif. Jackie Robinson graduated from Washington Junior High School and enrolled in John Muir High School. It was here that he and others discovered his talent for sport. Robinson played at the varsity level, winning letters in football, basketball, track and baseball, playing both shortstop and catcher on the baseball team, quarterback on the football team and guard on the basketball team. In track, he won awards in the broad jump. He also played on the tennis team and, in 1936, won the junior boys singles championship in the annual Pacific Coast Negro Tennis Tournament. He was Muir's most outstanding student athlete. At Pasadena Junior College, Robinson continued his excellent performance as an all-around athlete.
In 1939, Robinson graduated from PJC and moved on to UCLA, where he became the first athlete in the school's history to win varsity letters in baseball, basketball, football and track. While a senior at UCLA, he met his future wife, Rachel Isum. The couple would marry in 1946.
Just shy of graduation, Robinson became assistant athletic director with the government's National Youth Administration program. After the program ended his next stop was Hawaii to play football for the Honolulu Bears. He returned to California after one season and set his sights on the Los Angeles Bulldogs, but the attack on Pearl Harbor and the start of World War II ended his football dreams.
Robinson was drafted in 1942 and assigned to a segregated army unit in Fort Riley, Kan. In 1944, Robinson ran into trouble after being ordered to move to the back of an unsegregated Army bus. He refused and was arrested by military police. Robinson was transferred to the 758th Battalion and hit with multiple offenses. He was acquitted but never forgot the experience. He transferred to Camp Breckinridge in Kentucky, where he became an army athletic coach. He received an honorable discharge in November 1944.