Controversial Central Park statue of doctor who operated on enslaved women is moved
PIX 11 NEWS | 4/17/2018, 8:41 a.m.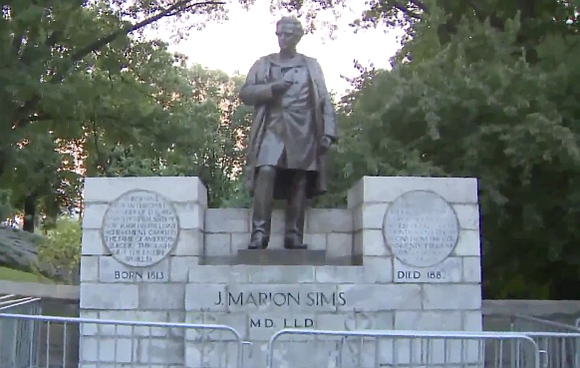 The statue of Dr. James Marion Sims was removed from Central Park after years of fighting to take it down.
Spectators watched Tuesday morning as the statue was taken down near 103rd Street and Fifth Avenue. Residents have been trying to get it taken down for nearly seven years.
Known as the "father of modern gynecology," Sims performed experimental surgeries on 12 enslaved Black women without their consent or anesthesia. During one documented operation, a female slave nearly died of septicemia.
The call for the removal of the statue came in 2017 as several Confederate landmarks across the nation were coming down in response to the violent Charlottesville, Va., "Unite the Right" rally, where one person was killed. City officials looked at several statues and monuments around the city and decided to remove the statue of Sims. It was brought to Green-Wood Cemetery in Brooklyn.
"While some may have thought Dr. J. Marion Sims was a pioneer, we know that his work was highly unethical and deeply racist," Public Advocate Letitia James said on social media. "A monument to recognize a serial torturer of enslaved Black women has no place in our city and today action is being taken to finally remove it."