32BJ and CWA pull away from Working Families Party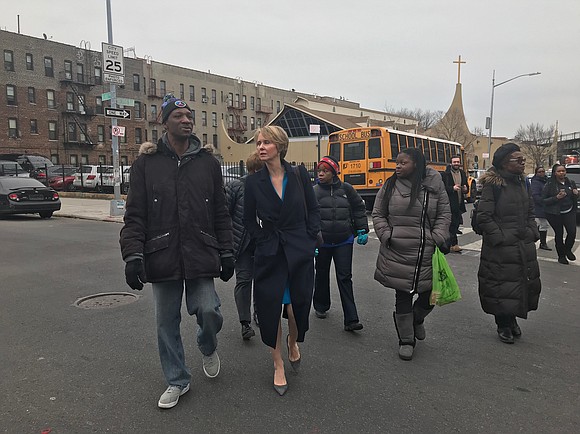 Last week, the Working Families Party endorsed Cynthia Nixon for governor, breaking ranks from current New York State Gov. Andrew Cuomo.
"WFP activists and voters are the heart and soul of our movement to make New York a place that belongs to all of us—a place with great schools for every child, good jobs, health care for all and an end to mass incarceration," said Nixon in a statement celebrating the endorsement that her people have labeled a "blow to Cuomo."
WFP's move didn't sit well with some labor unions and their leaders.
In a joint statement, 32BJ SEIU President Héctor Figueroa and Communications Workers of America Local 1 Vice President Dennis Trainor said that the tents of the Working Families Party leave them no choice but to break ranks and support Cuomo.
"The Working Families Party (WFP) was created by labor unions, community organizations and progressive activists to advance an agenda and elect candidates who improve the lives of working people," read the statement. "From raising the minimum wage to $15 an hour, to passing the strongest paid family leave program in the country, Gov. Cuomo has delivered on that agenda."
"The latest developments show that the current leadership of the WFP disagrees with that approach, and we have been unable to convince them otherwise," concluded the statement.
When asked about labor unions leaving his stead, Working Family Party Founder Bill Lipton said that they'll continue to support labor and feel that the current governor has violated his own principles and promises.
"WFP won't ever stop supporting unions and the right to organize and win fair contracts," said Lipton. "When Andrew Cuomo was first elected he vowed in The New York Times to wage an offensive to tame the power of labor. And he did. It was called the Committee to Save NY and it raised millions of dollars from real estate and gambling interests. And then Cuomo passed Tier 6, so-called 'pension reform' which will devastate public workers' retirement income."
In 2012, New York State legislators passed pension reform that would allegedly save the state $80 billion over the next 30 years. According to Lipton, these savings come at the expense of newly hired state and local public workers who would see their benefits reduced.
Héctor Figueroa, president of 32BJ SEIU, said his union's decision to leave the party over their Nixon endorsement shouldn't shock Lipton and company.
He stated, "Our decision to leave the Working Families Party (WFP) shouldn't have come as a surprise to the leadership of the party. Contrary to statements made by WFP officials, we were not forced to make this decision. This has been determined by what we consider is in the best interests of working New Yorkers coming into this election. We fundamentally believe that endorsing Andrew Cuomo is the right thing to do in this election and for the future of the party."
Nixon's endorsement from the WFP follows endorsements from the New York Communities for Change, the New York Progressive Action Network, Make the Road Action and the Citizen Action of New York.