'Children of a Lesser God' captivates on Broadway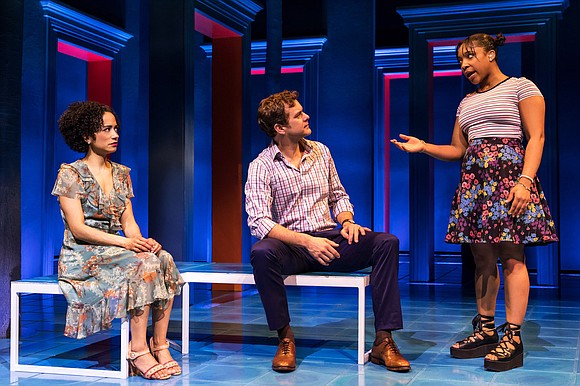 "Children of a Lesser God" is a tremendously powerful snapshot into the sad, frustrating and complicated life that a deaf person might sometimes endure. This play by Mark Medoff is something special to watch.
What do you know about the life of a deaf person? How would you feel if you couldn't hear, couldn't be understood or weren't accepted by your own family and were put in an institution at the tender age of 5 and left there?
Sarah (Lauren Ridloff, in an extremely impressive Broadway debut) is angry at the world and refuses to speak. When she meets her new speech therapist, Mr. Leeds (stirringly played by Joshua Jackson), she is suspicious at first. He uses very unconventional means to gain her trust and ends up falling in love with his student. You can clearly see that these two characters are attracted to each other. As their relationship becomes more intense, Mr. Leeds keeps trying to understand the world of silence that Sarah lives in. While he is her interpreter throughout the play, he realizes that it's not enough. He truly wants to understand what's going on inside her head.
Treshelle Edmond, who portrays Lydia, is delightful, funny and vulnerable in her role. Lydia is deaf but has some hearing through a hearing aid. Lydia is learning how to speak by reading books and watching television. She is also attracted to Mr. Leeds and often flirts with him.
Kecia Lewis is touching as Mrs. Norman, Sarah's mother, who abandoned her to the institution at the age of 5 because she couldn't figure out how to handle her child. She couldn't take being around Sarah and blamed Sarah for her husband walking out on the family because he couldn't deal with being around her. Mrs. Norman's reaction to having a disabled daughter, a girl who was deaf from birth, gives the audience a glimpse into the confusion and frustration that the parent of a disabled baby can go through.
The closeness that exists between people of the deaf and hearing-impaired community could not be better demonstrated than through the character of Orin. He is someone who grew up in the institution with Sarah and feels that their community is not given an equal opportunity by the outside world, and he fights for the rights of deaf people to be treated equally, specifically when it comes to being eligible for job opportunities at the institution. Orin is passionately played by John McGinty. Orin can hear a little and works hard on being able to speak. He views Sarah being with Mr. Leeds as a betrayal of the deaf community, and he is bold in letting her and Mr. Leeds know how he feels.
Also included in this splendid cast are Anthony Edwards and Julee Cerda.
Although this play gives you a love story between Sarah and Mr. Leeds, it does so much more. "Children of a Lesser God" is filled with passion, anger, love and regrets, but it also gives audiences exposure to a world that most of us know nothing about. "Children of a Lesser God" captivates! My hat is off to African-American director Kenny Leon for taking on the daunting project of directing this play.
There is something signature about a Leon-directed show. It's a feel that the show has from beginning to end. You feel like Leon takes his time and painstakingly sets scenes up so that you get the message in small powerful bits that whet your appetite for more and bring you to an understanding of the topic but don't overwhelm you. Leon always has a fantastic way of giving the audience something profound to think about. You walk out a different person after experiencing a Leon play. Kudos Kenny!
"Children of a Lesser God" is playing at Studio 54 on West 54th Street.