Community Calendar April 19 - April 25
4/19/2018, 2:39 p.m.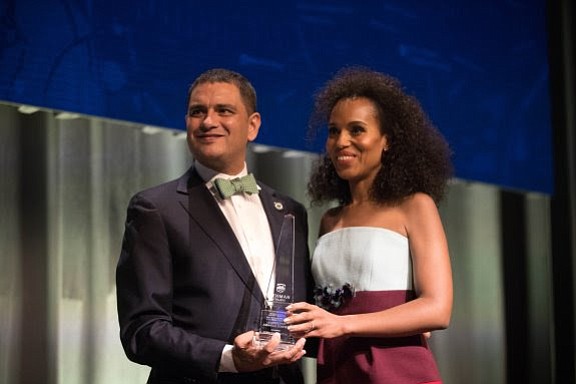 I love April. It is my favorite month of the year. Although it starts off with the vestiges of March, often chilly, windy and still downright cold, you know that before month's end it is going to warm up, tree buds will appear and tulips and daffodils will be everywhere (downtown that is). The cherry blooms and—OMG!—the pear blossoms along Lenox Avenue are nothing short of amazing. Having already made its magnificent display is the stretch along 7th Avenue, 121st to 122nd Street. What better sight in the midst of the inner city than a tree?
Another nice thing about this April, Mercury, the planet of communications, has finally gone direct after having been retrograde since March 22. I don't know about you, but even armed with this knowledge, knowing there would be all kinds of communication snafus, I still got caught as my not-old-enough to break down printer went crazy. Printing one page over and over until it finally, for some unknown reason, gave up and wouldn't print at all. I gave up and just shut it off. Taking a deep breath, I patiently waited until after the 15th, and low and behold, the printer has recalibrated itself and is back to doing what it does best—print.
Most people I have spoken to are also welcoming April with open arms as this first quarter of 2018 has been particularly bad. Everyone has a tale of unbelievable woe to tell. Jan. 26, my step-mother-in-law, Lloyd Overton Mitchell, died and it has been game on ever since. Lloyd was a resident of East Falls, Philadelphia. Her husband, Charles Edward Mitchell, died in 2014. My husband Charles was named estate executor.
I have been named to clean out the three-story plus a basement house and prepare it for sale. Now, this is my fourth house, so I pretty much got this. My first clean out was of my father Wilbur DeLaney's Central Park West apartment in 2000. It was a daunting task. Like any "first," I didn't know if I could do it. I gave myself a three-month window, worked relentlessly day and night, gave away, threw away, stored away and cried myself through the whole process until three months later, the apartment was empty. I turned over the key and sighed the sigh of relief that no one wants to sigh.
Next was 13 years later with my mom Harriet DeLaney's apartment. This clean out was a dual process because first I had to clean out her three-bedroom apartment on Riverside Drive, where she had lived for 50 years. Giving myself again that three-month deadline, I moved into the apartment with only a change of work clothes and a toothbrush. Here, I began to craft my newly found skill. It began with going to Costco, purchasing a couple of boxes of large, heavy-duty trash bags and placing a box in each room and starting with the drawers.
Of course, it goes without saying you have to go through every piece of paper because you never know what money or other important items you might find. The most important document I found was the marriage certificate of my great-grandmother Anna, who was married to Samuel Gilliard in Charleston, S.C. Once again, the distribution process of what to give away, throw away or keep forever until it's my daughter's turn is not a task for the faint of heart. Again the indescribable feeling that comes with exiting the apartment for the last time and turning in the key to management was upon me.