Family of slain Brandy Odom: 'Find her killer'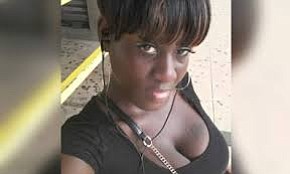 "Find her killer," demanded the inconsolable Brooklyn family of Brandy Odom and a horrified Canarsie community, as news broke last week that a dismembered body of a young woman was found in Canarsie Park.
Speaking to the media, Nicole Odom said to her slain daughter's murderer, "Killer or persons, if you're seeing this, just please have some sort of sympathy or heart so that justice can be served."
Odom's naked body parts (head, torso and limbs) were discovered strewn about the usually busy park last week. When asked for an update, the NYPD referred the Amsterdam News to Mayor Bill de Blasio's comments at his MTA/Community Police announcement Monday morning. There Detective Bureau's Deputy Chief Michael Baldassano said, "Right now, it's still an ongoing, active investigation…Our detectives are following up on numerous leads. The Crime Stoppers reward has been upped to $10,000 for your information. So, we ask that anyone who has information on this crime, please contact us. But that's basically it—it's an ongoing investigation right now, numerous leads."
Police believe that the body was dumped in the park just 24 hours after the killing.
"Do not forget her name," Odom's family repeated at a Canarsie Park news conference.
Nicole Odom said, "She was still my baby. Nobody had the right to play God and take a life. It wasn't her time to go. All I want is justice for Brandy. I'm going to do everything in my power to find this monster. Let justice be served."
A woman walking her dog on April 9 discovered the dismembered body. The other body parts in garbage bags were found soon after in different parts of the park. Officers found a knife in a trash can, and feel that it might be the weapon used to cut up the body in this horrendous killing.
In initially identifying the body, 69th Precinct police released details about a tattoo above her chest.
Odom worked for a security company, but had just taken a test to become a school safety agent.
Monday night Brooklyn Borough President Eric L. Adams joined family and friends in remembrance of Brandy and to keep the focus "on the still unsolved slaughter." They draped pink memorial ribbon over several blocks of the park's fence while urging the NYPD to step up their efforts in apprehending her at-large killer.
Meanwhile, as the city medical examiner's office is looking for a cause of death for the murder victim, Adams has "committed $1,000 of his personal funds to the reward for information that brings Odom's murderer to justice." He held the memorial ceremony in partnership with clergy members, community advocates and local elected officials in Canarsie.
"It is important to not let this story leave the front pages of our hearts and minds," said Adams. As Odom's mother and two sisters wrapped pink ribbons around gates in the park, her mother stated, "I just want justice done for my baby."
"This death was cold, but this case cannot go cold," Adams said.