Grace Jones, Denzel Washington and George C. Wolfe at TimesTalks
NADINE MATTHEWS | 4/19/2018, 4:28 p.m.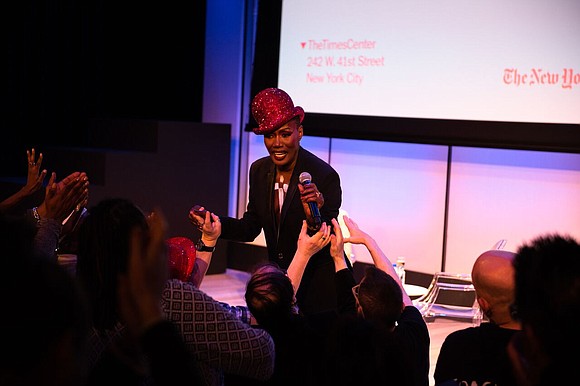 For her subsequent sit-down with Ryzik, Jones kept the jacket but lost the pants opting instead for splashes of white paint down her incredibly long, enviably toned legs. After several standing ovations, which ultimately prompted Jones to comment, "Oh honey the love, gotta feel the love," Jones talked at length about her family. She recalled her incredibly strong bond with her three brothers and her difficult relationship with her grandfather. She also gushed like any other proud grandma about her granddaughter, whose birth appears in the documentary. Jones shocked audiences when she cheekily admitted that the horror film "Rosemary's Baby" flashed into her mind when her granddaughter finally first opened her eyes and she discovered they were violet colored. They have since changed color with time.
Asked her biggest career regret, Jones replied simply, "I didn't do the film 'Blade Runner.'" Offered a part in the science fiction classic, she had turned it down. A fixture on what was then a huge clubbing scene in the '70s and '80s, she was asked which venue she would like to see come back. Almost without hesitation she replied, "The Garage. The Garage with Larry Levan. That was like, church." She was of course referring to legendary disco and house venue, Paradise Garage.
Ryzik, who sometimes seemed thrown by the superstar's outsize and offbeat personality, asked her about her initial shyness as a singer. Jones talked about her admiration for her own mother's singing voice. "My mom had the most incredible voice," she stated. "She had an amazing voice. She was the pinnacle for me."