New NYC arts venue opens
JORDANNAH ELIZABETH | 4/19/2018, 4:59 p.m.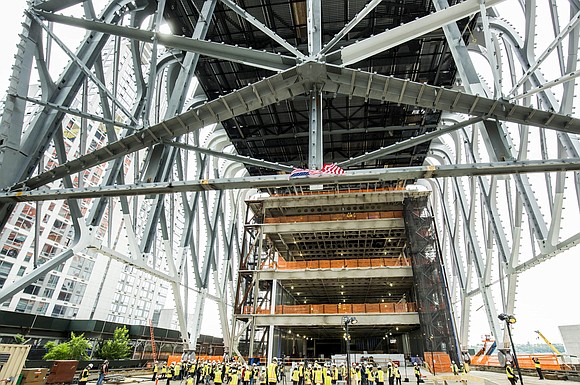 A new arts space, The Shed, will be hosting myriad events at its new 200,000-square-foot, eight-level structure on 10th Avenue and 31st Street in New York City. To introduce the world to the new venue, The Shed will be putting on an event series entitled Prelude to the Shed, which will feature performances and exhibitions from ABRA, Kunlé Adeyemi, Arca, Azealia Banks, William Forsythe, Reggie "Regg Roc" Gray and Tino Sehgal. ABRA will be performing each night May 2 through May 4, Azealia will perform May 10 and Arca will perform May 11 and May 12.
The Shed will be putting on 100 percent commissioned work, sharing different art mediums from performance art to visual art, music and beyond. All the events for Prelude to The Shed will be completely free.
The Shed announced, "From May 1 to 13, The Shed will present our pre-opening program A Prelude to The Shed, a free arts event, at 10th Avenue and 31st Street in Manhattan, one block from our permanent home opening in spring 2019. A transformable structure is as vital to the architecture of Prelude as it is for The Shed, a building designed to flexibly accommodate multiple artistic disciplines under one roof. Kunlé Adeyemi of NLÉ Works has collaborated closely with artist Tino Sehgal to design a temporary space in which dancers move and reconfigure the structure in a fluid integration of architecture
and choreography."
Along with musical performances, The Shed will be hosting an evening conversation series: "Prelude's series of evening conversations on new institutional models for the 21st century considers the politics of ritualized gatherings and the role of art and culture in social connectivity. Dorothea von Hantelmann, professor of Art and Society at Bard College Berlin, and Shed Senior Program Adviser Hans Ulrich Obrist organized the talks; The Shed's Chief Science and Technology Officer Kevin Slavin served as an adviser. Von Hantelmann has written an essay, specially commissioned for Prelude, that considers new ritual forms for the 21st century. Von Hantelmann's booklet will be distributed freely at the Prelude site."
To RSVP, visit https://www.ticketcentral.com/TheShed/Online/default.asp. To learn more about Prelude to the Shed, visit https://www.theshed.org/#prelude.