Saheed Vassell Shooting: Name killer cops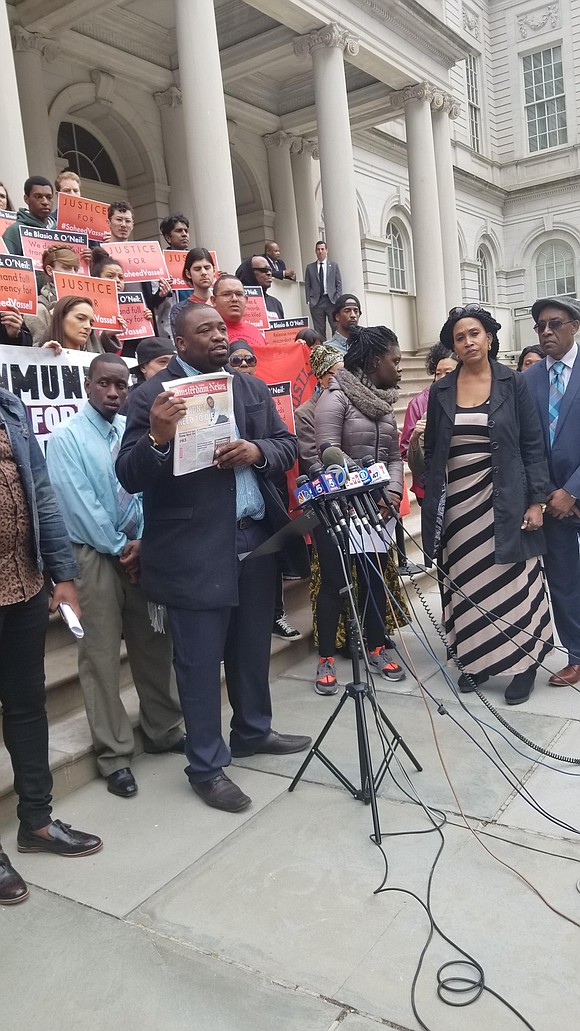 The story of the April 4, 2018 NYPD killing of Saheed Vassell is big news in Brooklyn, in the U.S. and in the Jamaican press.
The Jamaican-American Vassell family, who live in all parts of the world—from Jamaica, to Canada, to England, to Japan, to America—will all congregate at St. Anthony's church Thursday and Friday to say farewell to their son and brother.
Three of the Vassell children spoke to the Amsterdam News about their loss and pursuit for justice.
Telah Vassell said that the Navy paid for her to fly out from Japan just two days after she learned of the killing.
Andwele Vassell had to fly back from Jamaica. "We are a very big family," he told this reporter on the "Back to Basics" radio show on AllBlackradio.com. "My parents are strong and my father is the backbone. Saheed was very well known in the Crown Heights community. He goes to church every morning. He's helping the elderly people with their groceries. Every store owner knows him."
"After he was shot, he lay on his side soaking in his own blood—and he was handcuffed," Telah Vassell said.
The growing crowd were yelling at the cops, the family said, demanding answers.
Andwele Vassell said, "His son saw him, my younger brother saw him."
Younger brother Javohnn Vassell added, "I was still able to see his blood—25 minutes after. The police were holding me, dragging me, pushing me away. All they are going to tell me is 'Stay back.' Somebody had to pick me up and walk me, because I was devastated. I walked to Kings County Hospital. I just hoped he was alive."
"An unmarked car pulled up in the middle of the day and both plainclothes and uniformed officers jumped out and shot Saheed Vassell in cold blood," said Anthonine Pierre, a representative for Communities United for Police Reform and deputy director of the Brooklyn Movement Center. "This was a hit on a member of our community. Mayor de Blasio is responsible for the NYPD's inappropriate propaganda campaign against Saheed Vassell that has sought to criminalize and focus on him, the victim of police violence, instead of the actions of NYPD officers who killed him. What the de Blasio administration's NYPD is doing is not transparency or accountability. It's time for the mayor to put an end to this sham and ensure both transparency and accountability related to this killing. He must require the NYPD to be truly transparent, releasing the names of the officers involved in this killing and information on any history of misconduct they may have, all footage of officers' actions immediately before, during and after the killing, and provide public explanation of the Strategic Response Group and anti-crime unit's notifications and roles versus that of Neighborhood Coordination Officers."
After the shooting in Crown Heights, the police immediately put out videos and still pictures of Vassell walking the streets with a metal pipe. Raising questions about gentrification in Crown Heights, the family supporters note that even though "everyone in the community knew him," someone—perhaps new to the area—called 911 and said that there was a man with the gun. Minutes later the SRG unit hopped out of a car and fired fatal bullets.