Talking SCHOP! Osso bucco, baaabeee!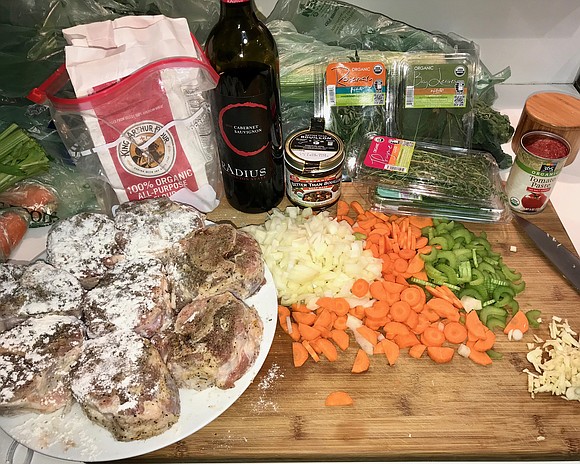 So, I was in the supermarket last week meal planning and shopping for one of my weekly clients. The client requested a prep-intensive beef and vegetable fried rice dish, so all else had to be simple. I was thinking pork chops but, in its place, I see, for the first time, organic pork shanks (love you @dubreton). I was gobsmacked!
Be damned the time to prep and cook the dish. I officially set my mind to making osso bucco for my client. The payoff of my client loving the dish and wanting to add it in the rotation (when available) is what a cook lives for.
Here is my recipe for a quick-ish osso bucco.
8 Veal shanks (5 to 5 and 1/2 pounds total), 1 and 1/2 inches thick, tied tightly with kitchen twine
3 and 3/4 Teaspoons kosher salt
2 Teaspoons freshly ground black pepper
1/2 Cup all-purpose flour
1/4 Cup vegetable oil
2 Medium onions, chopped
3 Ribs celery, diced
2 Carrots, diced
3 Tablespoons tomato paste
6 Garlic cloves, minced
2 Bay leaves
1 Tablespoon chopped fresh thyme leaves
1 Tablespoon chopped fresh rosemary leaves
1 Cup red wine (that you would drink)
4 Cups low-sodium beef stock (alternative: chicken or veal)

2 Tablespoons unsalted butter, at room temperature
Fresh chives, snipped
Preheat oven to 325
degrees.
Season the meat on all sides with 2 and 1/2 teaspoons of salt and 1 teaspoon of pepper. Dredge the veal shanks in the flour, shaking them to remove any excess.
Heat the vegetable oil in a large Dutch oven or straight-sided pan over medium heat. Brown the shanks on all sides, in batches if needed, approximately 8 to 10 minutes. Remove and set aside.
Add the onion, celery and carrot to the pot or pan and cook until softened and lightly browned, 4 to 6 minutes. Add the tomato paste and garlic, stirring to combine and cook out the paste, 1 minute. Deglaze with red wine, scraping the bottom of the pan to loosen any browned bits. Once the wine evaporates, add the stock, bay leaves, thyme, rosemary and remaining salt and pepper. Stir to combine and cook for a couple of minutes.
Return the shanks, nesting them into the vegetables, and their juices to the pan or pot. Cut a round of parchment paper to lay directly on top of the mixture, and then place the lid. (SCHOP! Tip: If the lid is not heavy enough to hold in the condensation, cover the pan with foil before putting on the lid). Place in preheated oven for 1 hour. Remove, flip the shanks and return for another hour.
Remove and discard the bay leaves. Move shanks to serving platter. Reduce sauce on stovetop if needed and finish with butter. Ladle sauce over shanks and dress with chives.
Now that is some client-approved osso bucco for you. Enjoy!
Happy eating and thanks for reading!
Kysha Harris is a food writer and editor, culinary producer, consultant and owner of SCHOP!, a personalized food service in NYC for more than 15 years. Follow her on Twitter and Instagram, @SCHOPgirl, on Facebook, /SCHOPnyc, and her blog, www.talkingSCHOP.wordpress.com. Questions? Comments? Requests? Feedback?  Invitations!  Email AmNewsFOOD at AmNewsFOOD@SCHOPnyc.com. Follow us on Instagram, Twitter and Facebook @NYAmNewsFOOD and tag us with #SoAmNewsFOOD with
your food finds!