Waiting while Black: Racial incident at Starbucks sparks outrage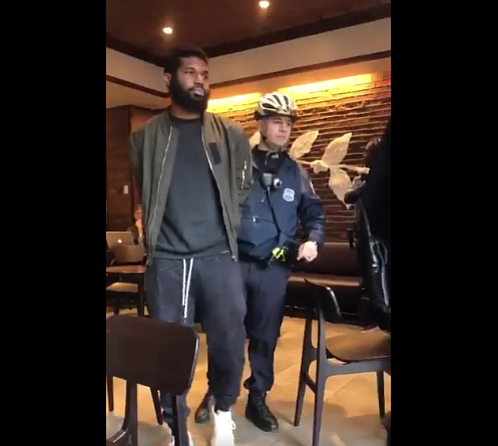 Fallout continues after two Black men were arrested for sitting in a Philadelphia Starbucks. Calls for a boycott of the chain coffee shop persist as the company announces plans to close thousands of stores for racial bias training.
April 12, two Black men, Donte Robinson and Roshon Nelson, entered the Starbucks location in Philadelphia's Rittenhouse Square neighborhood. The two were meeting a friend to discuss a real estate deal. Nelson said he asked staff if the could use the restroom. An employee refused them, stating that only paying customers could use the restroom. The men then sat at a table and waited for a friend to arrive without buying anything. Police were called and the two were arrested for trespassing.
Viral video of the incident was taken by patrons inside the Starbucks and viewed more than 10 million times on Twitter. Several white customers, including the friend the two Black men were waiting for, questioned police during the arrests. The men were not charged.
"What did they [police] get called for?" the white friend asked. "Two Black guys sitting here meeting me?"
During a televised interview on Thursday, Nelson said that he was shocked by the situation and that when police arrived he didn't think they were there for him and Robinson.
"I was just trying to process the situation to myself at the time because I'm thinking about my family that I have, my community," he said. "It didn't really hit me what was going on, that it was real until, double locked, hands behind my back."
Robinson said that he doesn't want to see the situation happen to anyone else.
"I want young men to not be traumatized by this and instead be motivated, inspired," he said.
Their attorney said that Robinson and Nelson are not thinking about a lawsuit at this time.
Reaction to the arrest was immediate, with protests taking place at the location and activist calling for a boycott of the coffee chain.
Starbucks CEO Kevin Johnson said in a televised interview that what happened was not in-line with the company's values and offered a public apology to the two Black men.
"I'll say the circumstances surrounding the incident and the outcome at our store on Thursday were reprehensible," Johnson said. "They were wrong, and for that, I personally apologize to the gentlemen that visited our store."
In a statement released by Starbucks Tuesday, Johnson met with the men and apologized to them. They also "engaged in constructive discussions" about the issue of racial bias around the country.
Reports indicate that the manager who called the police on the Black men is no longer with company, and Starbucks announced it is closing all 8,000 of its stores nationwide May 29 for racial-bias training.
"As part of our work towards a solution, we announced that Starbucks will be closing more than 8,000 company-owned stores and corporate offices on the afternoon of May 29 to conduct racial-bias education geared toward preventing discrimination in our stores," Starbucks said in a statement to the AmNews. "The training will be provided to nearly 175,000 partners (employee) across the country, and will become part of the onboarding process for new partners.Philadelphia Police Commissioner Richard Ross Jr. said in an online video that the officers' actions were justified.