'Festival of Praise' a showstopper at Lehman Center April 29
DEARDRA SHULER | 4/26/2018, 5:05 p.m.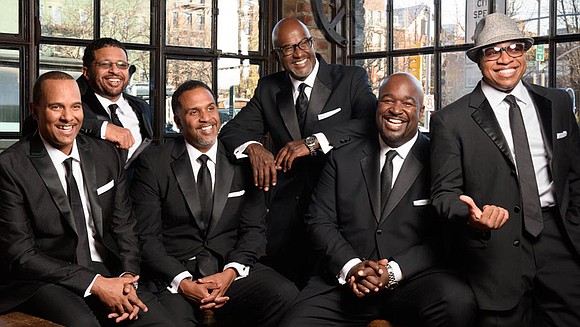 Tenor Claude McKnight, founder of the a cappella sextet Take 6 took time to talk with this writer about his participation in the Festival of Praise Tour, a 48-city tour now in its fourth year. He and his fellow Take 6 members, consisting of arranger and tenor Mark Kibble, bass Alvin Chea, tenor Joey Kibble, baritone Khristian Dentley and tenor David Thomas, join fellow performers Fred Hammond, Donnie McClurkin, James Fortune and Pastor Charles Jenkins at Lehman Center for the Performing Arts in the Bronx, N.Y., Sunday, April 29, at 6 p.m., for the show titled "Texture of a Man," which promises to be an evening of soul-stirring music.
"I started a quartet known as Alliance when I was a freshman at Oakwood University, a Seventh Day Adventist school in Huntsville, Ala.," said McKnight. "It became a quintet when Mark Kibble joined, and then we added an additional person making it a sextet. We eventually became Take 6. So essentially the group consists of four tenors, a baritone and a bass. All of us play instruments: keyboard, guitar, trombone, etc. But we decided we wanted our group to be primarily a cappella. The voice, after all, is the most perfect instrument there is, so that is what we wanted our group to represent. We have one of the best vocal arrangers on the planet in Mark Kibble. He uses all the elements of music in an a cappella setting, and he is able to get all the arrangements done in a way that hopefully audiences don't miss the instruments they are used to hearing."
The multiple Grammy, Dove, Soul Train and NAACP Image awards and nominations the group received over the years acknowledged Take 6 as the Best Jazz Vocal Group in Downbeat's prestigious Reader's and Critic's Poll. Their 2016 release "Believe," reached the top 10 for both the gospel and jazz charts, and included songs such as "Reset" and "You Make Me Happy," as well as their inspirational song "When Angels Cry." The group started off singing spiritual songs, and then they began writing their own material. They do R&B, jazz, pop and doo-wop.
"Our latest release 'Iconic' is due out April 27, 2018," said McKnight. "We will be featuring songs like Debarge's 'All this Love' on the new album. Also, the single from it is an Eric Clapton tune "Change the World." Jeffrey Osborne's "Back in Love" is featured, and the Earth, Wind & Fire version of the Beatles, "I Got to Get You into My Life" are all iconic songs that will be on our latest release."
Grammy, Stellar and Dove Award-winning gospel singer, songwriter, filmmaker, multigold and platinum winner and producer Hammond joined in the conversation to talk about the Festival of Praise, "Texture of a Man 2018" concert tour that he put together. He has sold more than 15 million albums worldwide, which includes 12 No.1 hits. His songs include "Are You Ready" "One More Try," "Just to Be Close to You" and "No Weapons." Born in San Antonio, Texas, Hammond spent most of his growing-up and adult years in Detroit, Mich. but has spent the past 12 years in Dallas, Texas