Kathy Edouard's life is one of service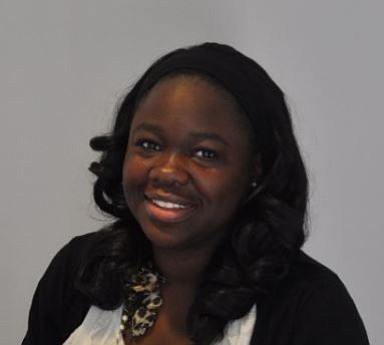 "I come from a Haitian-American background, so I was raised with those kind of values," said Kathy Edouard. "So we spent a lot of time in the church."
The 26-year-old Flatbush, Brooklyn native (who still calls the neighborhood home) is a senior program manager at New York Cares managing volunteer opportunities that serve adults and children with special needs. From the beginning, Edouard had the concept of work and helping others instilled in her.
"I lived with my mom," said Edouard, who also has a younger brother. "My father passed when I was 3 or 4 years old, so we grew up in a household where my mom was tough and super into making sure that you get your schoolwork done and you're super involved in church and in school. She was very particular about making sure that not only we were doing our school work, we were helping people."
That place of worship was the Church of the Holy Innocents in Flatbush and the school she attended was Holy Innocents School. Tying study and worship together wasn't an anomaly for her.
"I also went to Catholic school, so my school was always connected to the church that I went to," said Edouard. "That's where I was introduced to a lot of service and giving back to the community and the idea of helping others. I joined a lot of clubs and organizations."
One organization that Edouard was a part of involved teenagers who came together to produce a newsletter with articles relating to their lives and experiences. That newsletter was shared with the neighborhood.
"Every Tuesday night, we would meet at the church and talk about what sort of articles we'd like to write," said Edouard. "It was one of those things that started my love for service. From there we organized various events in the church."
Through her various endeavors, she found jobs at other spots. She worked with the nonprofit Brooklyn Congregations United as a youth community organizer. Her job involved getting other young people in the area together to help tackle issues that were going on in the community.
"Monumental task for me," said Edouard, but she was up for the challenge.
While attending the University of Rochester, from which she graduated in 2014, Edouard's road was leading her into the legal profession, despite her upbringing. But a major experience changed her mind.
"When I was in college, I was deciding on what would be my next step," Edouard related. "I was actually on the path of going to law school. I majored in political science. However, I studied in Barcelona my senior year and that experience really kind of shaped what I want to do."
In Spain, she taught high school children English and ended up learning some Spanish during her time there. She also volunteered at a huge festival for children reading stories and said that experience shaped what she wanted to do with her life. That led to her joining the volunteer program AmeriCorps and she was eventually placed at New York Cares. Once there, she helped lead volunteer programs in public schools around the city.