Marshall 'Major' Taylor, the 'Black Cyclone' of cycling fame
Herb Boyd | 4/26/2018, 12:12 p.m.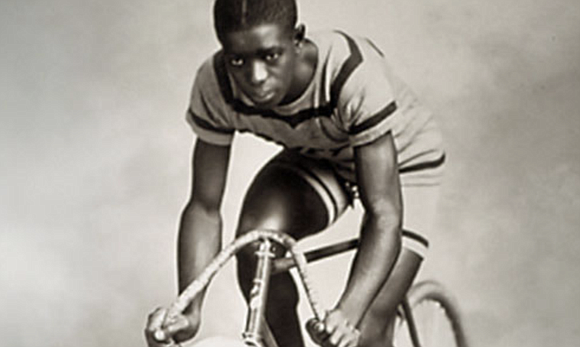 Late night television and early morning newspapers can do wonders for a columnist looking for the next personality to profile. A trailer popped up the other night on cable television promoting a documentary on Marshall Walter "Major" Taylor, the extraordinary cyclist. The next morning there were reports that President Trump was considering a pardon for the great heavyweight champion Jack Johnson.
I have featured Johnson in previous columns, but I had never done one on Taylor, who was breaking cycling records at the same time Johnson was breaking jaws in the boxing ring. Both champions—and it should be noted that Taylor was the first African-American to hold a coveted world championship—were born in 1878 and despite rampant racism and hostility earned immortality during their storied careers.
Taylor was born Nov. 26 in Indianapolis, and was 18 when he began racing professionally. He was 12 when he was given his first bicycle and began performing all sorts of trick riding stunts. He became so proficient and popular that he was hired to perform outside a local bicycle shop, earning $6 week, although he also had to clean the shop. Because he wore a military uniform during his stunts, he was dubbed "Major," and the nickname would stick throughout his racing days.
By the time he was 14, he began winning races as an amateur, turning professional and winning his first race in 1896. After he established a record on a one-mile track when he was 15, he was derided by spectators and later barred from the track. That was the beginning of the racism and bigotry he had to overcome while defeating some of the best cyclists in the world. In the summer of 1896, not yet a professional, Taylor won his first major race in New Haven, Conn., even though he started in last place. Later, in Indianapolis, he set an unofficial track record at the Velodrome, completing the mile race in 2:19 and three-fifths of a second.
When he was 18 and entered the professional ranks, he was considered one of the most promising and formidable cyclists in America. That reputation was given its test in the six-day racing event at Madison Square Garden. He was pitted against some of the best racers in the world, including A.A. Hansen, Teddy Goodman, Germany's Frank Waller and Canada's B.W. Pierce. Taylor completed a grueling 1,732 miles in 142 hours and finished in eighth place. That was his first and last six-day competition.
There is a photo from 1897 of Taylor with the Boston pursuit team, and it's one of the first known photographs of an integrated American professional sports team. That year witnessed a number of victories for Taylor, none more memorable than beating Eddie Bald, a noted cyclist, in a one-mile race in Reading, Pa. After Taylor was barred from several races, especially those in the South, Bald became the U.S. champion.
But Taylor remained undeterred and chalked up so many victories that he was called the "Ebony Flyer," and the "Black Cyclone." One of his most noted admirers was President Teddy Roosevelt, who kept tabs on his racing career. In the 1898 racing season, Taylor got his revenge, defeating Bald at Manhattan Beach, although he lost to Eddie McDuffie in a 30-mile race. But a greater triumph occurred when he set a one-mile record in besting Jimmy Michael of Wales.