Navigating Coachella
MEGAN PINCKNEY | 4/26/2018, 4:36 p.m.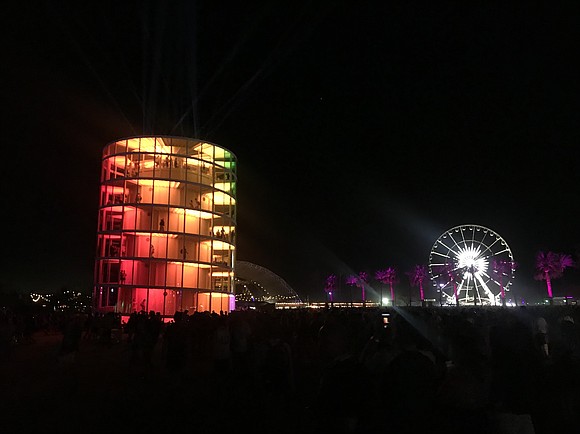 The truth is, VIP really isn't necessary. Sure there's an entire section filled with food and drink options, but you still have to pay for everything and you could get those things out in the general admission area. The VIP section is located near the main stage. Therefore, getting toward the front is a little easier when coming from those gates. However, you could still always walk up to those gates from the general admission area and head to the stage that way.
Lodging for the weekend is also something that needs to be planned well in advance because 100,000 people are all looking for a place to stay and the surrounding area really isn't that large. There are several options: on-site car/tent camping, on-site premium camping, a hotel room at one of many participating hotels or you can rent a home on websites such as Airbnb or VRBO.
You'll have to determine your budget and your needs before you can determine where you'll stay. For instance, renting a home will probably put you a little further away from the festival, but it will give you the opportunity to explore the surrounding town. Most of the hotels listed on the Coachella website offer shuttle services to and from the fairgrounds, which can be really helpful. Camping out is the most logical answer, because it puts you right where you need to be for the duration of the festival. But once your car is parked, you can't move it until the festival is over. There's no in and out, so you're kind of stuck there. Coachella does a really great job going over each option on their website.
If you choose to stay off-site, getting to and from the festival will be your next challenge. You could choose to ride the shuttles, which have pick up and drop off locations all throughout the area, or you can drive. Both years I've gotten to the festival by car and both years I've sat in traffic. The first year, we didn't purchase parking ahead of time. So on one day we paid to park in one of the daily lots, but on another we ended up paying to park in a local's yard. Walking from those lots and that house was taxing, especially when it was time to leave the festival after having spent the entire day there. Also, expect to sit in a ton of traffic both going and leaving. This year, we paid for VIP parking and it is truly the smartest option if you're going to drive. Although getting out of the lot after the shows did take a really long time, walking to the parking lot from the festival grounds was a breeze and took less than 10 minutes (compared with the nearly 45 minutes it took us to walk to that house we parked at). You don't have to have VIP passes to purchase VIP parking. However, the VIP parking does lead directly to the VIP entrance, so you would have to walk a little farther to get to the general admission entrance.
I highly recommend downloading the Coachella app before you arrive to the festival. I didn't use it last year, but I did this year and it helped me out in so many ways. I was able to view the map of the grounds and the lineup and stay aware of all announcements because of the app. It also allows you to create a schedule for the acts you really want to see, and it gives you a 15-minute reminder before their shows so you won't forget (which is easy to do when there's so much going on).
The Coachella Music and Arts Festival website goes into great detail on how to plan a trip and it does a great job explaining every little detail. If Coachella is something you really want to check off your bucket list, make sure you take the time to prepare beforehand so you can have the best possible experience.
Megan Pinckney (@shadesofpinck) is a retired beauty queen turned lifestyle blogger who loves exploring the world and writing about it.