Obama didn't but Trump might- A pardon for boxer Jack Johnson
Vincent Davis | 4/26/2018, 2:53 p.m.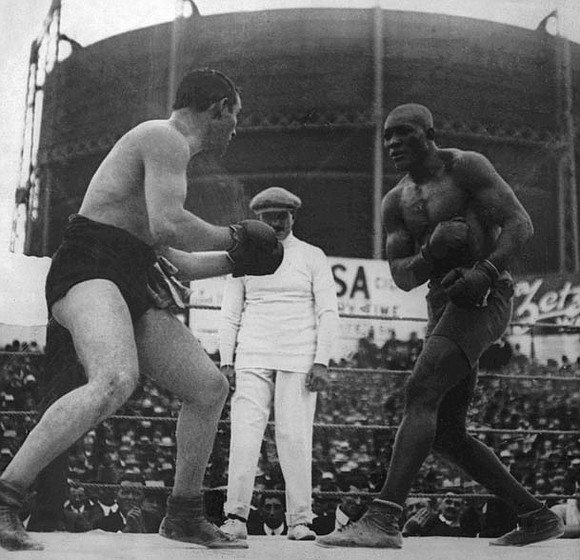 Saturday afternoon, 3:02 p.m., April 21, the president of the United States tweeted from his account, @realDonaldTrump, "Sylvester Stallone called me with the story of heavyweight boxing champion Jack Johnson. His trials and tribulations were great, his life complex and controversial. Others have looked at this over the years, most thought it would be done, but yes, I am considering a Full Pardon!" This message was in addition to his tweets about North Korea and those regarding his personal attorney Michael Cohen.
Sylvester Stallone is the Hollywood actor/producer famous for his portrayals of the fictional boxing champion Rocky Balboa, and Jack Johnson was the first Black American heavyweight boxing champion of the world.
In 1913, Johnson was charged and convicted of violation of the Mann Act, also known as The White-Slave Traffic Act, a United States federal law introduced by Congressman James Robert Mann, passed June 25, 1910, to help stop sexual slavery of women, forced prostitution.
In addition to its stated purpose, the law was also used to prosecute unlawful premarital, extramarital and interracial relationships. The penalties, felony convictions, would be applied to men whether or not the woman involved consented. And if the women cooperated, they could be considered an accessory to the violation. The law was even used to criminalize consensual sexual behavior between adults.
Johnson, the heavyweight champion from 1908 to 1915, was charged with the violation in the fall of 1912 on grounds that his relationship with his second wife, an alleged prostitute when they met, and white, involved transporting a woman across state lines for immoral purposes. The case fell apart against Johnson because she refused to cooperate, but another woman, alleged to have also been a prostitute, also white, with whom Johnson had been involved in 1909 and 1910 testified against him. Johnson was convicted by an all-white jury in June 1913 and sentenced to a year in prison, even though the incidents he was charged with took place before passage of the Mann Act.
Johnson forfeited his bail and left the country, fleeing to Canada, and then to France. Johnson and his wife lived in exile throughout Europe, South America and Mexico for seven years before deciding to return to the United States in July 1920, surrendering to federal agents at Mexico's border. Johnson served out his sentence at Leavenworth Penitentiary in Kansas from September 1920 to his release July 9, 1921.
Johnson, born March 31, 1878, dying June 10, 1946, the son of former slaves, is a boxing legend, a major 20th century sports figure at the height of the Jim Crow era. At the height of his career, Johnson was severely criticized by the press and prominent Blacks for his flashy lifestyle, his brashness in and out of the ring and for marrying white women (three), socially unacceptable at that time.
After winning the world heavyweight title in December 1908, defeating the reigning world champion, Canadian Tommy Burns in Sydney, Australia, a search began for "the Great White Hope," a white opponent capable of beating Johnson to regain the world title so that it would be held by a white champion. His fight against James J. Jeffries, the former champ who retired and undefeated but came out of retirement to fight Johnson in a scheduled match July 4, 1910, Jeffries' first loss, was recognized as "the fight of the century."