Public Theater Mobile Unit brings 'Henry V' to the people April 27-May 13
LAPACAZO SANDOVAL and ART SHRIAN | 4/26/2018, 4:22 p.m.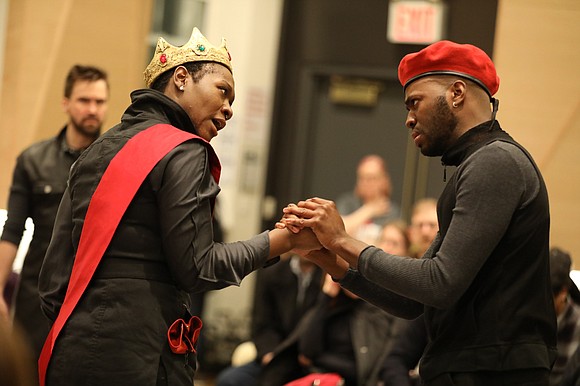 Directed by Robert O'Hara, the free sit-down run of "Henry V" follows a three-week tour to five boroughs bringing Shakespeare to audiences who have limited or no access to the arts.
The Public Theater will run "Henry V" through Sunday, May 13, with an official press opening Friday, April 27. This presentation is part of the Public's Astor Anniversary Season at their landmark downtown home on Lafayette Street, celebrating 50 years of new work at 425 Lafayette St. and the 50th
anniversary of "Hair."
Bringing the classics to the masses is what the Public Theater does best, and the complete cast of "Henry V" includes Michael Bradley Cohen (Canterbury/Dauphin/Chorus), Leland Fowler (Scroop/William-Bates/Chorus), Patrice Johnson (Montjoy/Messengers/Chorus), Carolyn Kettig (Katharine/Cambridge/Chorus), Ariel Shafir (Westmoreland/Constable/Chorus), David Ryan Smith (Exeter/Governor/Chorus), Joe Tapper (French King/French Queen/Chorus), Zenzi Williams (Henry/Chorus) and Kim Wong (Alice/Grey/Chorus). 
"Henry V" features scenic and costume design by Clint Ramos and original music by
Elisheba Ittoop. 
"Henry V" tells the story of an insulted king by the regent of France, so Britain's King Henry V (Zenzi Williams) decides to wage war and claim the throne across the channel. Resonating over the centuries, wherever there might be a kingdom for a stage and royalty to act, Shakespeare's drama about the invasion, ego and leadership delves into history's thorniest questions: What makes a person worthy of wearing the crown, and what do they owe the people they lead? But this time, our king is played with startling freshness by an African-American actress, unearthing new meaning to our little touch of Henry, as our king makes his way through this
bloody campaign.
 Please note, these performances are free. To further the mission of making great theater accessible to all—again—all tickets to the Mobile Unit that run at The Public are free and are available via TodayTix mobile lottery and in person distribution downtown at The Public Theater, 425 Lafayette St. at Astor Place.
Here's how it works: On each public performance date, free tickets will be distributed in person beginning 90 minutes before curtain, and via mobile lottery on the TodayTix app. Download the TodayTix app to enter or visit publictheater.org for more information.
In 2017 the Mobile Unit celebrated the 60th anniversary of its inaugural mobile tour, which began in 1957. It was started with the production of "Romeo and Juliet," directed by the late Joseph Papp, with Bryarly Lee and Stephen Joyce in the titular roles. The 1957 Mobile Unit tour received early support from New York City authorities. Stanley Lowell, then deputy mayor, was an early champion for free theater and mobilized city resources and departments to support Papp's production. The first Mobile Unit rolled up to performance venues across the city in borrowed Department of Sanitation vehicles with a wooden folding stage mounted to a truck bed and portable seating risers to accommodate 700 people per venue. The city's Parks Department permitted performances in local parks across all five boroughs. Subsequent productions included "Two Gentlemen of Verona," "Macbeth," "A Midsummer Night's Dream," "Henry V," "The Taming of the Shrew," "Ti-Jean and His Brothers," "Take One Step," "Unfinished Women Cry in No Man's Land While a Bird Dies in a Gilded Cage" and "Volpone," among many others.
For more information, visit www.publictheater.org.