Tribeca Film Festival hosts screening and Q&A for 'Rest in Power: The Trayvon Martin Story'
NADINE MATTHEWS | 4/26/2018, 3:55 p.m.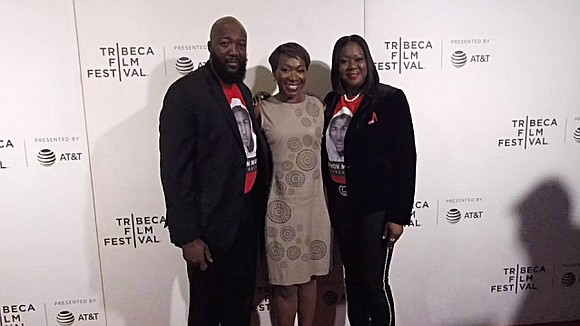 It was the shot that sparked a movement. Under the cover of darkness Feb. 26, 2012, an altercation apparently instigated by George Zimmerman, a Hispanic man of mixed white and Native-American ancestry, and Black teenager Trayvon Martin, resulted in the death of the teen. Martin was approximately 250 miles from the diverse metropolis of Miami, where he lived with his mother Sybrina Fulton, visiting his father Tracy Martin in Central Florida. Zimmerman's only reason for shooting was that he feared for his life. Martin was unarmed.
Martin was reportedly interested in horseback riding, flying lessons and video games. He aspired to a career in aviation. As news of Martin's death hit the airwaves and social media, without news of Zimmerman being charged with the killing, young people across the nation, familiar with and grown weary of the plethora of such cases that dot America's history (and indeed world history), mobilized. After Zimmerman, who was finally charged with second degree murder and manslaughter, was acquitted, they took to the streets with the now familiar chant, "Black Lives Matter." A hashtag and a movement
was born.
What differentiated the Trayvon Martin incident from others in recent memory was the fact that Zimmerman was a civilian. He is said to have desired a career in law enforcement. On the rainy night that he confronted Martin as the teen walked home from a convenience store after buying a bag of Skittles candy for his cousin and a drink for himself, 28-year-old Zimmerman had gone as far as being coordinator of the neighborhood watch.
Martin's extrajudicial killing seemed to reopen a portal to history many had fought to shut tight—a time when the Klu Klux Klan routinely and with impunity killed Blacks in the South and across rural America in the 100 years from Reconstruction through the civil rights era. The fatal incident was a chilling reminder of extralegal deaths of innocents such as those of 14-year-old Emmett Till in 1955 and 21-year-old James Chaney in 1964. It was alarming in its own particular way.
The 2018 Tribeca Film Festival this past Friday night screened the first episode of a six episode series co-produced by hip-hop impresario JAY-Z called "Rest in Power: The Trayvon Martin Story." It will air on the Paramount Network in July. The post screening Q&A was led by Joy Reid. Now host of her own news program on MSNBC, Reid was a journalist in Florida for many years. In addition to Martin's parents, the panel consisted of the directors and producers of "Rest in Power": Julia Willoughby Nason, Jenner Furst, Mike Gasparro and Chachi Senior.
The filmmakers were also part of the team behind "Time: The Kalief Browder Story." Near the start of the panel, Nason remarked, "We were very conscious of the connection that law enforcement was not directly involved in the killing, but what was involved was vigilante justice and white supremacy. It doesn't have to be a cop that kills a Black person. It can be anybody and Trayvon Martin and Emmett Till shows us this."