Without Kyrie Irving, Celtics show unwavering fight
Jaime Harris | 4/26/2018, 3:03 p.m.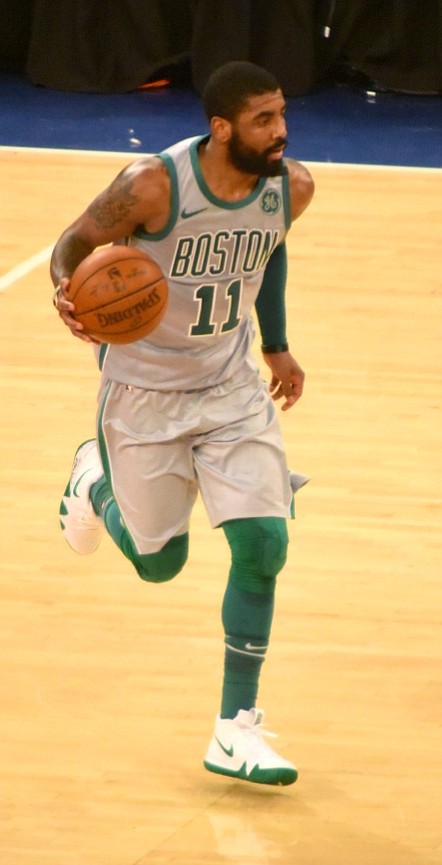 The Boston Celtics have persevered perhaps like no other team currently playing in the postseason. In the face of debilitating injuries to two of their star players, the No. 2 seed in the East is one game away from advancing to the conference semifinals after a 92-87 win in Game 5 Tuesday night over the No. 7 seed Milwaukee Bucks in the opening round of their best-of-seven series. The Celtics lead the Bucks 3-2 with Game 6 in Milwaukee tonight.
With a lift from guard Marcus Smart, who returned to the lineup after being out the previous six weeks with a thumb injury, the Celtics held off a late charge by the Bucks. "You can look at the stat sheets all you want," said Celtics head coach Brad Stevens regarding Smart.
"With Marcus, it just doesn't tell the story. It's his energy, it's his emotion. It's little plays that turn out to be game-changing plays." Indeed, Smart's line of nine points, five rebounds and four assists belied the tangible impact he had on the Celtics' victory. In contrast, the stat sheet often told the story of Kyrie Irving.
On April 5, when the Boston Celtics announced the All-Star point guard would miss the remaining four games of the regular season and the entire playoffs to undergo a procedure to remove two screws from his left patella, conventional wisdom dictated the Celtics had a relatively short postseason shelf life. On March 24, when Irving had surgery to remove tension wire in his knee, a bacterial infection was discovered where the screws had been inserted, effectively ending the Celtics' hopes of winning the Eastern Conference and reaching their first Finals since 2010.
Irving, the team's leading scorer at 24.4 points per game, had established himself as one the world's most dynamic and best players over the previous three seasons playing with Cleveland Cavaliers, who drafted him first overall out of Duke in 2011. Traded to the Celtics last summer and no longer engulfed by the large shadow of LeBron James, he indisputably had become their franchise player.
Entering this season, the Celtics had designs of ending the Cavaliers' supremacy in the East as James and company were seeking their fourth straight Finals appearance. Along with trading for Irving, they signed All-Star forward Gordon Hayward, formerly of the Utah Jazz, in July.
However, less than seven minutes into the Celtics' season opener versus the Cavaliers in October, Hayward suffered a horrific dislocated ankle and fractured tibia, ironically in a collision with James, from which he has not returned. He is expected to return at the start of next season.
No matter how deep the Celtics' playoff run goes, they have proven to be resilient.