Dance Theatre of Harlem dancers reflect as company turns 50
Zita Allen | 8/2/2018, 10:22 a.m.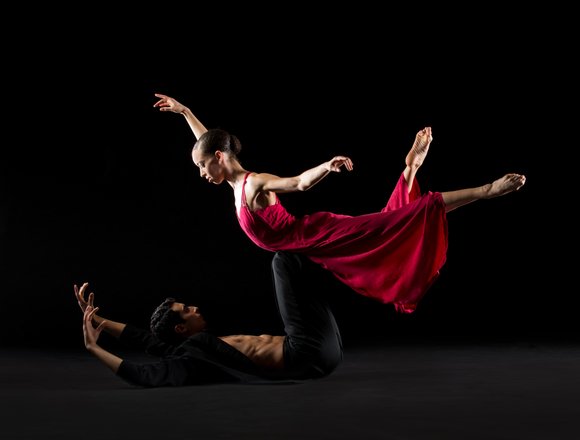 Dance Theatre of Harlem, the ballet company founded by Arthur Mitchell and Karel Shook in 1969 and led today by former DTH ballerina Virginia Johnson, kicks off a months long 50th anniversary celebration at Lincoln Center Saturday, Aug. 4. "50 Years of Dance Theatre of Harlem: Experiencing History on Pointe and in Color" is a panel discussion featuring past and present DTH dancers that gets the ball rolling at 4 p.m. in the Performing Arts Library's Bruno Walter Auditorium. It is then followed by a company performance as part of the Lincoln Center Outdoors program, featuring a dynamic mix of neoclassical and contemporary works.
DTH's 50th anniversary is a momentous occasion. In its early days, when Mitchell called DTH "the first permanent Black ballet company," some quibbled, thinking the label premature, even as critics praised DTH's meteoric rise. When, as Dance Magazine's first Black critic, I witnessed DTH's Guggenheim Museum debut with pride, I also took issue with those who saddled the company with the burden of proving Blacks and ballet were not dance's equivalent of oil and water. At the time, many seemed unaware that before DTH there had been other Black ballet companies and dancers. (Thanks to the late historian Joe Nash, my 1976 Dance Magazine article, "Blacks and Ballet," discussed such as Delores Brown and Raven Wilkinson and a handful of companies that, despite talent and favorable reviews, were short-lived.)
Today, 50 years later, thanks in no small measure to the DTH effect, ballet's landscape is changing, slowly but changing. Recently, the Amsterdam News spoke with a few former and current DTH dancers about their careers and the ballet change agent DTH.
Ballet master and DTH former principal Keith Saunders reflected on his career with the company, beginning as an apprentice, rising to principal, and then ballet master. And now, after recently receiving an MFA, moving to yet another level as he accepts a teaching position at Texas Christian University in Fort Worth, Texas. "Fifty years is quite an achievement," Saunders said. "I've been with DTH for 40 of those 50. My wife Kellye and I are treating this as a big new adventure."
His wife, Kelly, is also a former DTH dancer and current company ballet master. The couple plans to complete their Texas relocation after DTH's 2018-2019 season.
Saunders reflected on how it all began.
"I started dancing as an 18-year-old freshman at Harvard in Cambridge, Mass.," he said. "My plan was to major in political science and my dream was to become a lawyer." During freshman orientation, he learned about a dance class. "They called it Afro-American dance," he said. One class and everything changed.
Dance classes at Elma Lewis' Boston-based school followed, and soon he had joined her company. Then came auditions with several New York companies, including Dance Theatre of Harlem. "Mr. Mitchell and Mr. Shook offered me a job and, in August 1975, I started as an apprentice," he said. Before long, he became a principal dancer, performing with DTH for 17 years, from 1975 to 1996. "Sometime around the early 1990s, while I was still dancing, I started doing some ballet mastering," he said. "In 2004, though we lost the company, we still had the school. I became director of the Dancing Through Barriers and director of the Professional Training. We developed the DTH Ensemble, a kind of second company and, from 2009 to 2012, in the absence of the first company, the Ensemble toured, nationally and internationally, under my direction in those years. When the company came back in 2012, I went back to being ballet master."