Musical power and splendor in 'Don't Bother Me'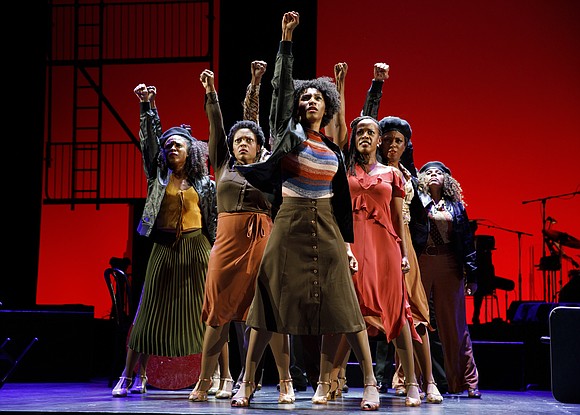 New York City Center on West 55th Street was the place to be this weekend as "Don't Bother Me, I Can't Cope" played performances from July 25 to 29 as part of the Encores! Off-Center Series. This musical, with music and lyrics by Micki Grant, was magnificent to experience. I did not have the opportunity to see it in the 1970s, but I could tell that a lot of people sitting in the capacity audience had not only seen it but also were excited to experience this new staging.
This musical, with a concept by the late Vinnette Carroll, had choreography and direction by Savion Glover, and let's just say it was very evident, because Glover included amazing tap dancing to accompany some of the songs. Glover's style of aggressive, powerful tap with an attitude came across loud and clear. Glover's splendid prowess and love affair with dance were evident as you watched his ingenious transformation of numbers that would once have simply involved singing into interpretative dance to make the meaning of the songs even stronger.
Grant's 23 songs were a lovely offering of jazz, blues, gospel, calypso and soul music. The songs grabbed your attention and addressed many issues faced in the Black Community, of having so many troubles and problems, but realizing that we can't stop. We've "Gotta Keep Movin'." Through her song "Harlem Streets," Grant writes a love letter to Harlem and the creativity and beauty of its people. Club scenes showed how Black people would gather, relax and have a good time. Songs such as "Looking Over from Your Side" and "They Keep Coming" voiced the struggles of Blacks in their community and the Black Power movement. The song "My Name Is Man" deeply resonated with the audience: a young Black man declared that his father named him Man so that he would be strong and have dignity and demand respect. He would also not accept anyone trying to degrade him. How amazing is it that this song addressing a Black man having to fight for and demand respect was created four decades ago, but sadly is still an issue in our communities today? This song was very relevant, as were many of the others in this musical. Addressing the inequality between the sexes, "Show Me That Special Gene" was a song that looked at women and men doing the same job, but for different salaries. That again is something that we still deal with today.
Black love got a positive boost in "My Love's So Good." A song that was delivered in a very humorous fashion, but was also political and racist, was "Time Brings About a Change." In this number, men and women sang about how it was cool to have a Black friend and to have that token Black friend at cocktail parties, but once they left the parties and moved next door, it wasn't cool anymore. "So Little Time" was a delicate, beautiful number. "Questions" was a gospel-based number in which a member of the choir sang about her questions about life for God. It was lovely and very touching. Other gospel numbers were also enjoyable. The title song "Don't Bother Me, I Can't Cope" is absolutely hilarious as the cast of 13 stands in a line across the stage and people share difficult experiences at their apartments, at their jobs and with their therapist and end each scenario by declaring "Don't Bother Me, I Can't Cope."