Musical power and splendor in 'Don't Bother Me'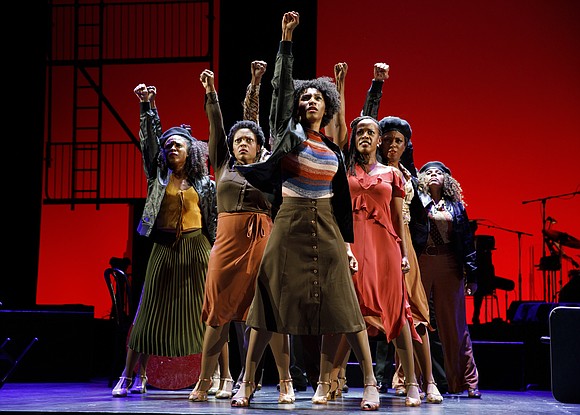 The cast was superbly talented and featured Rheaume Crenshaw, Dayna Dantzler, Aisha De Haas, James T. Lane and Wayne Pretlow. Ensemble members included Alexandria Bradley, Marshall L. Davis Jr., C.K. Edwards, Jeffry Foote, Shonica Gooden, Nine Hudson, Marla McReynolds and Amber Barbee Pickens. The production had musical direction by Annastasia Victory and a vibrant, wonderful live band consisting of Michael Mitchell on piano, Ayodele Maskheru on guitar, David F. Gibson on bass and Patience Higgins on woodwind.
From a technical standpoint, every moment flowed with delightful costumes by Clint Ramos, lighting by Mark Barton, sound by Leon Rothenberg, sets by Donyale Werle and music supervision by Chris Fenwick.
The audience shouted approval. They laughed and they danced to the catchy music. People were especially clapping their hands with the choir to the gospel songs. At the Saturday performance I attended, a talkback followed and it was wonderful. They entire cast came out onstage and Micki Grant joined them as Kiesha Coles moderated. Coles was part of the Encores! Off-Broadway series last year with her one-woman show "The Bubbly Black Girl Sheds Her Chameleon Skin." Coles let the audience know that Grant had been her inspiration when she saw this musical as a child. She let her see that she, too, could create a musical.
When asked by Coles the origin of "Don't Bother Me, I Can't Cope," Grant stated, "I borrowed all the things that happened in our community to write it."
Addressing the musical's ability to survive Grant explained, "It is good because I keep it topical. I would put in things going on today.
Coles acknowledged Grant by replying, "That's inspired. To have the ability to keep updating it is wonderful!"
If you hear of the show being mounted again, believe me, it is worth seeing. It delivers beauty and inspiration.