Beverly Moorehead, mother of Dr. Brenda Greene and grandmother of Talib Kweli, passes away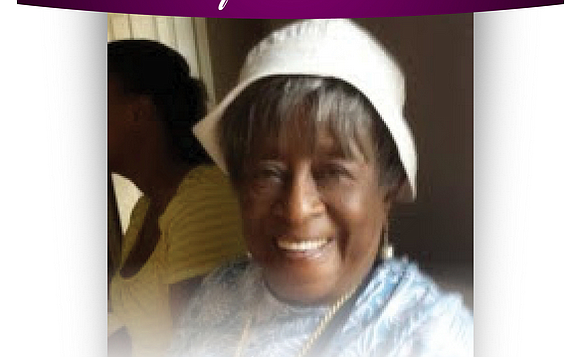 Beverly A. Moorehead, mother of Dr. Brenda M. Greene, JoAnn and Dennis Adams and Lori Moorehead, and grandmother of rapper Talib Kweli, passed away last week.
In a statement sent to the AmNews, Greene discussed her mother's legacy and what she gave to the world.
"In the Igbo tradition, a person doesn't die until the living stop telling their stories," said Greene in a statement. "My sisters, sons, grandchildren, nieces, nephews, cousins and a host of friends will continue to tell her story. Truly, in the words of a South African proverb, A great tree has fallen, but her spirit will live on through her family. My mother, the Queen Mother and Matriarch of our family was truly a woman warrior. She demonstrated what it meant to love, fight for what you believe in and to resist. We need to remember this as the moral, spiritual and ethical values in our society are found wanting. She highlighted the importance of family and of doing whatever you could to support and love the family."
Greene told the AmNews about the time her mother came out of retirement to volunteer for a year at the former Nkiru Books after her grandson, rapper Talib Kweli, and his friend, rapper Yasiin Bey (formerly Mos Def) purchased it in the year 2000.
"She believed that it was important to stay connected to young people so she would watch the videos and listen to the songs of contemporary rhythm and blues and hip hop artists," Greene stated. "Although she was not actively involved in politics, she believed in knowing the issues and would readily debate you on any topic."
Greene said that a highlight of her mother's life came just a few years ago when Talib took her to the birthday party of former president Barack Obama. She sad Moorhead was a natural storyteller in teacher.
"In the words of Maya Angelou, she was determined to live life with flair and laughter," said Greene. "She will be missed, but her legacy for celebrating and living life will be remembered and cherished in our hearts forever."
Moorhead's funeral service will be held at the Frank R. Bell Funeral Home at 536 Sterling Place in Brooklyn. The viewing will take place at 10:00 AM and the funeral will take place at 12:00 PM. The repast will take place at Akwaaba Mansion at 347 MacDonough Street in Brooklyn from 3:00 PM to 6:00 PM on the same day. Condolences can be sent to Dr. Brenda M. Greene, 195 Willoughby Avenue, #706, Brooklyn, NY 11205.
Moorehead is survived by her devoted daughters, Brenda Greene, JoAnn Adams and Lori Moorehead, her son-in law, Dennis Adams, six grandchildren: Abena Edwards, Talib Kweli, Jamal Greene, Taiwo Gaynor, Kehinde Gaynor, Lloyd Mebane: 16 great-grandchildren; and a host of nephews, nieces, cousins and loving friends.