Sharpton calls for justice for unarmed Black man killed by white civilian in Florida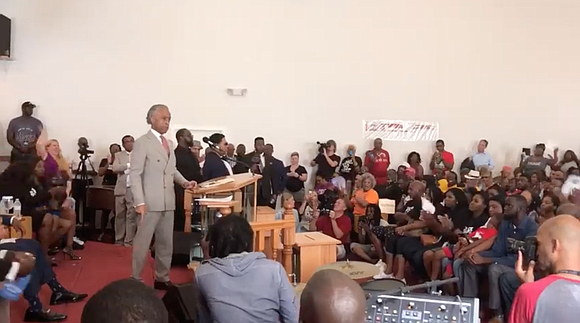 Rev. Al Sharpton travels to Clearwater, Fla over the weekend calling for the arrest of a white man who fatally shot an unarmed Black man during a dispute over a parking space.
Speaking to a full crowd at St. John Primitive Baptist Church on Sunday, Sharpton said the victim, 28-year-old Markies McGlockton, was trying to protect his girlfriend and three children from 47-year-old Michael Drejka in the parking lot of a convenient store.
Drejka verbally assaulted McGlockton's girlfriend over the the vehicle she was in being parked in a handicap parking space. When McGlockton came outside with his 5-year-old son, he pushed Dreika to the ground. Dreika waited four seconds before whipping out and handgun and shooting McGlockton in front of his three children.
Pinellas County Sheriff Bob Gaultieri said Dreika was using Florida's "stand your ground" law to justify the shooting.
"How can you have a civilian become the judge and jury over whether somebody should live," Sharpton said. "That's what this law represents. It is also disproportionately used to the disadvantage of Blacks."
Sharpton was joined by McGlockton's girlfriend, Britany Jacobs, their 5-year-old son and the parents of Trayvon Martin at Sunday's rally. All five Democrats running for Florida governor were also at the rally. Sharpton said candidates should hear the call of voters to change "stand you ground" laws.