'Christopher Robin' is a family must this summer!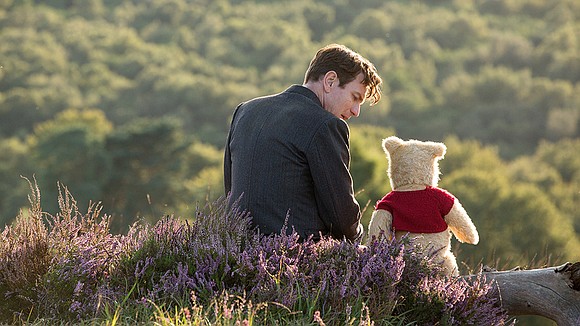 The uber bright executives at Disney know how to please kids, and in the new family comedy "Christopher Robin," directed by Marc Forster, they have collaborated beautifully to make a great kids' film that is perfectly suited for adults.
This modern version of the classic character Christopher Robin is a quirky one who displays his most human side, easily slipping into stretches of melancholy, but thankfully it's punctuated by comic moments.
The script is sturdy despite the story being predictable. The adult Christopher Robin (Ewan McGregor) has not seen the Hundred Acre Wood since he was a young boy and—no surprise—he lost that spark of joy, the source of his creativity and his lust for life. He's a married man who rarely spends time with his wife and daughter (Hayley Atwell and Bronte Carmichael, respectively), opting to pour himself into his work. Then he gets a visit from Winnie the Pooh (Jim Cummings).
Charm erupts on the screen. How can it not with such an adorable bear? It's reshaped for a contemporary audience, which is a lush nod to E.H. Shepard's original illustrations. Oh Pooh, I love you. He is so cute and Cummings' vocal performance is pppp-perfect.
The film opens with a very young Christopher Robin at his farewell party filled with great colors that slowly drain away after the boy leaves. Time waits for no one, and we flip forward through mock chapters that deftly draws the characters in and out of illustrations before depositing us into Christopher Robin's adulthood in gritty postwar Britain. Unfortunately, our dear Christopher Robin has forgotten about his wonderful childhood companions despite promising that he never-ever would, and the result is almost debilitating desolation.
Pooh wandering through a sad and deserted Hundred Acre Wood is impactful with a musical score composed by Geoff Zanelli and Jon Brion and it works. The scene where Pooh's paw is brushing through the wild grass is lush.
Struggle is a huge part of childhood, and Robin struggles to balance his personal and professional lives. Here, I struggle not to spoil the ending of the film, but our Robin surprises us and himself. Here is a hint: He questions faith and the need for personal sacrifice as the only route to happiness. Another hint: He questions maybe finding a happy medium, and understanding that this life is a "medium" might be a longer solution.
And all that aside, it's just a great movie. The voice talent is first-rate and includes Brad Garrett and from England's stable of impressive thespians Paul Chahidi (as a lively neighbor), Matt Berry, Mackenzie Crook and Simon Farnaby.
Great twist and one of the reasons this version of "Christopher Robin" works is that everyone can see Pooh walking and talking, and that gives the entire film an honest landscape that's filled with great joy!